Tracy Morgan Crash Brings New Attention to Trucker Rest Rules
By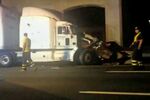 The weekend truck crash that killed comedian James "Jimmy Mack" McNair and injured Tracy Morgan and three other passengers may give new urgency to a long-running debate over federal rest rules for commercial truckers. The driver of a Wal-Mart Stores tractor-trailer had reportedly not slept for 24 hours before he allegedly struck a limousine bus in which McNair, Morgan, comics Ardie Fuqua and Harris Stanton, and Morgan's assistant, Jeff Millea were riding early Saturday on the New Jersey Turnpike, causing a six-vehicle accident.
Kevin Roper, of Jonesboro, Ga., was charged Saturday with vehicular homicide, assault, and reckless driving. Wal-Mart suspended Roper pending the outcome of the crash investigation, spokeswoman Brooke Buchanan said today in an e-mail. Roper was released on bail Saturday night and was due in court later Monday. On Saturday, Bill Simon, Wal-Mart's chief executive, said the company was "profoundly sorry that one of our trucks was involved."
On Monday, Parents Against Tired Truckers, the Truck Safety Coalition and the Teamsters union said that U.S. truck crashes kill about 4,000 people each year and injure 100,000 more, at a cost of some $87 billion. The groups hope that the fatal crash involving Morgan will persuade Congress to reject an amendment that a Senate committee approved Thursday to restore older rest rules for commercial truckers. "A lot of people don't know about Susan Slattery but a lot of people care about Tracy Morgan," said Ed Slattery of Cockeysville, Md., whose wife Susan was killed in August 2010 in a truck crash. His two sons who were traveling with her were critically wounded, and Slattery said he retired from his job to care for one son who was in a coma and is now permanently disabled. "No other industry can get away with killing 4,000 people every year. This has just got to stop. It's got to stop."
The American Trucking Associations has been lobbying Congress to ease federal rules that limit truckers' work weeks to 70 hours. The rules imposed last summer by the Federal Motor Carriers Safety Administration also require a 30-minute break during the first eight hours of a driving shift. Dave Osiecki, the American Trucking Associations' executive vice president of national advocacy, said it was too soon to tell whether the Morgan crash would affect the industry's efforts in Congress. "The causes of that crash remain to be learned," he said today in a telephone call.
Kevin Kelley, a spokesman for the amendment's sponsor, Republican Senator Susan Collins of Maine, said that her proposal would not repeal important safety regulations governing commercial truckers. "If media reports are accurate, and the driver did not sleep during the federally-required off-duty time, that is irresponsible," Kelley wrote in an email. "However, to infer that the proposal being considered by the U.S. Senate had anything to do with the crash is completely inaccurate because the driver's alleged actions would still be illegal even under the proposed changes."
"People die every day in accidents, but you never hear tell because they're not famous," says Daphne Izer, of Lisbon, Me., who started Parents Against Tired Truckers in 1994, the year after her 17-year-old son was killed, along with three friends, in a crash involving a truck driven for Wal-Mart. "It might have an effect," Izer says of the attention given the accident involving Morgan.
The National Transportation Safety Board is also "gathering factual information" about the accident, spokesman Keith Holloway said in an e-mail. Morgan is expected to remain in hospital for several weeks, recovering from several broken bones and other injuries.
Before it's here, it's on the Bloomberg Terminal.
LEARN MORE