Three Strategists, One Clear Message: Be Careful
by
Today we received similar research reports from three totally unrelated strategists, all of whom we respect. This sort of thing doesn't happen often, so we're paying attention.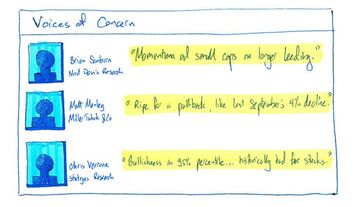 Brian Sanborn provides quantitative analysis of equity trends at Ned Davis Research. He has been telling clients for several months to heed the dual warning of biotechnology's 20 percent plunge in March, and small caps' 400-plus basis point underperformance versus the S&P 500 Index year to date. (A basis point is 0.01 percentage points.) Bottom line, risk sectors are not acting well.
Miller Tabak & Co. strategist Matt Maley echoes his concern, citing weakening internals like breadth and the relative strength index. Strategas Research Partners technician Chris Verrone cites excessive bullishness.
Chris uses weekly survey data provided by Investors Intelligence to gauge investor sentiment. Nearly two-thirds of investors are bullish, which happens only about 5 percent of the time. When it does, he says stocks tend to underperform during the subsequent three months.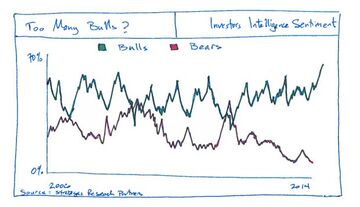 So investors are still extremely bullish, even as proxies for risk investing (momentum stocks and small caps) have turned lower. And market internals have narrowed. Not good.
Fortunately, downside put protection is extremely cheap, thanks to an 89-month low for the CBOE Volatility Index (VIX). Since volatility is the single most important factor determining options prices in the Black-Scholes option pricing model, low VIX means options are cheap.
The SPDR S&P 500 ETF Trust (SPY) corresponds to the S&P 500 Index, and it currently trades at 195.35. The July 135 put costs $2.75, which equates to 1.4%. We think this represents excellent value, and an ideal way to cushion what the pros believe is a coming correction.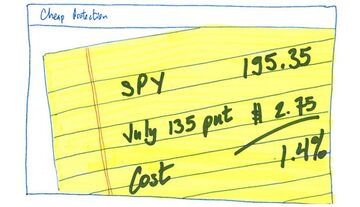 Before it's here, it's on the Bloomberg Terminal.
LEARN MORE