North Dakota's Downside to the Oil Boom: Traffic Deaths
By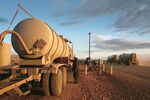 Nowhere has the U.S. oil boom wrought as much change as in western North Dakota, where an influx of people chasing a gusher of well-paying jobs has led to some of the nation's highest apartment rents. But the energy rush has also created a sharp jump in fatalities as the roads around Williston, Watford City, Dickinson, and Minot fill with commercial trucks linked to the oil industry.
Peruse federal statistics on the rate of highway traffic fatalities involving commercial trucks, and North Dakota "jumps right off the page," says Eric Brooks, regional director for the Occupational Safety and Health Administration's office in Bismarck.
North Dakota's traffic fatality rate was 0.48 per million vehicle miles traveled in 2012, with 48 deaths (PDF) involving a bus or large truck—far surpassing any other state, according to data from the Federal Motor Carrier Safety Administration. Wyoming was next with a 0.29 rate. That compares with a 0.08 rate in California, the most populous state, which had 277 such fatalities in 2012. Texas, the No. 2 state by population, had 589 deaths, or a rate of 0.25 per million vehicle miles. Massachusetts had the lowest rate at 0.04.
North Dakota averaged 13 annual deaths involving commercial trucks in the preboom years of 2001 to 2005, according to Ralph Craft, a retired FMCSA economist who oversaw the annual data collection and reporting for the agency's reports on bus and large truck traffic. "The one thing that's unusual about North Dakota is the huge increase in oil industry traffic because of the Bakken Shale," Craft says.
The traffic fatalities are just one part of the severe strain on local infrastructure since new hydraulic fracturing techniques made the crude oil in the Bakken Shale economically accessible for energy drillers. Housing, schools, roads, and even grocery supplies have had trouble meeting demand from the rapid influx of newcomers.
The economic cost of severe truck crashes more than doubled from 2008 to 2012, reaching $257 million, the Associated Press reported last month. "It's single-lane traffic in every direction, rural roads and nonpaved roads, and in some cases the oil companies are creating their own roads," Brooks says of the western part of the state.
North Dakota's harsh winters and heavy snows tend to exacerbate the problem, as do inexperienced drivers operating large trucks. The U.S. had 10.7 million registered large trucks in 2012. Some of the drivers on the roads are fatigued oilfield workers who have just finished stints working seven or 10 days straight, on 12 hour shifts, Brooks says. There is also a limit on how many state troopers North Dakota can deploy in the region, given that auto crashes and deaths far outnumber those involving commercial trucks.
Before it's here, it's on the Bloomberg Terminal.
LEARN MORE