Go Easy on the Climate Fatalists. They're Having a Hard Time
by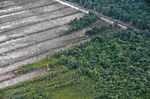 These must be rough days for climate change fatalists. Solar and wind power costs have plunged. Companies compete for climate bragging rights. The United States is increasingly arguing about disputable policy approaches instead of indisputable scientific facts. There's just a lot going right.
More than 20 years after diplomats and environmentalists started getting together every year to generate fat United Nations documents and bad geopolitical vibes, smaller-scale climate policies are taking hold in places like China, the U.S., Mexico.
Take this piece from Bloomberg News today, about China asking the United Nations for a favor.
The details are technical for all but the devout. They go something like this. Under the United Nations Kyoto climate treaty, developed nations could generate carbon credits by building "clean" projects -- in renewable power or energy efficiency, for example -- in developing countries. China supplies more of these credits than any other nation, but wants to start keeping them in-house.
Helping its case is that the credits are worth very little today internationally, their prices driven down by ample supply of carbon credits elsewhere. So China wants to take projects it initially earmarked for the UN international regime and use them instead to help domestic polluters meet their targets. The projects in question could cut annual carbon emissions by almost 8 million metric tons. China's new carbon markets are expected to create demand for about 63 million pollution credits, Bloomberg News reported.
This is the trend to watch -- attention and effort flowing to national or regional programs.
In light of new policies and all sorts of energy technology improvements, really the only thing climate fatalists have to hang on to is that the scale of the problem and the amount of work left to do still haven't budged. Slowing climate change will take time, which we don't have a lot of. At least more minds appear to be setting to work in potentially useful directions.
More by Eric Roston (@eroston on Twitter)
Visit The Grid for the latest about energy, natural resources and global business.

Before it's here, it's on the Bloomberg Terminal.
LEARN MORE