Brazil's SuperUber Brings Techno Art to the World Cup
By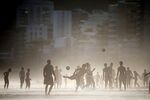 In the late 1990s, Russ Rive used to hop on a skateboard and cruise around Santa Cruz, Calif., conducting business. He was more or less a door-to-door salesman, offering computer support services to companies. Rive had come from South Africa with his two brothers and wanted to form a technology startup, and they soon thought up a way to expand the computer-support play. They would try and automate many of the manual tasks that businesses had to go through to set up and run their tech infrastructure, managing the computers from afar instead of requiring an on-site technician. Rive and his brothers formed Everdream in 1998 to build this support software and services operation. They put up billboards around Silicon Valley in which Lyndon Rive, Russ's younger brother, stood naked with pants around his ankles and a PC in front of his groin next to the the tagline, "Don't get caught with your systems down." The ploy worked, and Everdream attracted enough attention and business to be acquired by Dell nine years later for many millions of dollars.
Instead of hanging around Silicon Valley, Russ decamped to Brazil to decompress and never left. With his wife, Liana Brazil, Rive formed SuperUber, a company that builds technology- and art-infused installations unlike just about anything else on the market.
"I'd come down here to do some soul-searching, but after two weeks passed, I was going crazy and needed something to do," Rive says. "This became the something I would do."
Rive's cousin is Elon Musk, and SuperUber has done some work for both Tesla and SpaceX. It built a type of X-ray panel that could be held up next to a Tesla Model S to reveal the inner structures of the car and the technology behind them. For SpaceX, SuperUber is in the midst of creating a projected sphere that will hover in the company's already Jetsons-like lobby. "You'll be able to see the Earth from space in real time and see the cloud cover and satellites," Rive says. "Then, you'll be able to replay SpaceX rocket launches and see the rockets go up into space and even change planets to go to Mars."
Much of the company's work has been for museums and cities looking to add some razzle-dazzle to a space. SuperUber makes large, unusual interactive displays such as a periodic table with elements that can be poked to reveal their atomic structures in three-dimensions and huge projection walls with images that can be manipulated by people.
For the World Cup, SuperUber has created a couple of installations for Nike at some of its signature stores. It also built a truck that went around cities, took photos of fans in their Brazilian national jerseys, and projected the images onto buildings. But the company didn't have a chance to really strut its stuff because of the down vibe surrounding the event. "There's been a negative energy around the games," Rive says. "People have pulled back a bit."
Over the years, SuperUber has done 200 projects, ranging in price from tens of thousands of dollars to $1 million. It has two offices in Brazil and an office in New York. Rive's brothers have gone on to run SolarCity, a solar panel provider for homes and businesses, and Rive has continued to keep up with Musk's companies. "I invest in all the family businesses. They are working really hard for me," he says with a laugh.
Of late, he's got the itch to maybe try another pure technology company of his own. "I am starting to explore that idea more," he says. "I need to step it up again."
Before it's here, it's on the Bloomberg Terminal.
LEARN MORE