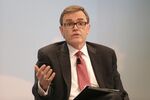 UPS is a company with many traditions. Drivers must follow 341 rules as they make their appointed rounds. UPS executives faithfully quote founder Jim Casey's aphorisms and tend to be lifers. The only exception was D. Scott Davis, who was named CEO in 2007.
On Friday, United Parcel Service returned to form. It named David Abney, who started his career as a part-time package loader in 1974, as his replacement. "He's a UPS lifer," Kevin Sterling, an analyst at BB&T Capital told the Wall Street Journal.
Davis, who will stay on as chairman until he retires in September, wasn't exactly a newcomer when he joined UPS after the company acquired his firm—Oregon aviation technology company II Morrow—in 1986. But he was never allowed to forget that he hadn't worked his way up from the bottom.
Here's what Davis told me about it two years ago: "I'm the first CEO that didn't start at UPS. In fact, the Atlanta paper, when I was named CEO at the end of 2007, said, 'Outsider Named CEO.' I had been with the company 22 years at that point in time. But not having started there, I was perceived as the outsider coming in."
Bloomberg News notes that the announcement of the CEO change at UPS comes at an interesting moment for UPS:
"Abney will take over at a crucial time, as UPS heads toward the height of the holiday e-commerce rush that overwhelmed the company with last-minute shipments in 2013. He led the team that reviewed UPS's response, which spawned a $100 million, multiyear push to expand some parcel facilities and accelerate use of new technology to make delivery routes more efficient."
But Davis's days were probably numbered, regardless of the Christmas debacle. Regular CEO turnover has been a feature at UPS since founder Jim Casey left the company in 1962 after more than five decades in charge. Transitions since Casey's exit have earned UPS a reputation for stability in a situation yet to be faced by FedEx, which Fred Smith has led since starting the carrier in 1971.
When I pressed him two years ago, Davis conceded that the clock was ticking. "Generally, it has probably been between five, eight years," he said. "There's no written rule anyway, although I'm getting old."
On Friday, Davis's time ran out according to schedule. What else would you expect at UPS?
Before it's here, it's on the Bloomberg Terminal.
LEARN MORE