UCLA's Anderson School Has a Major Woman Problem
By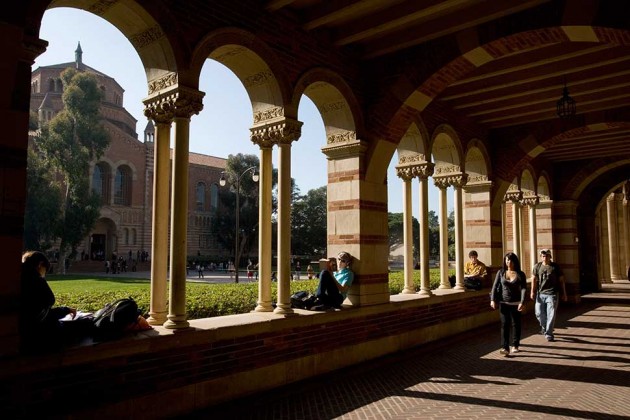 In 2006, UCLA's Anderson Graduate School of Management discovered that it had a gender problem. An internal report by the school found that while it hired plenty of women, it had trouble keeping them. Female faculty reported more job dissatisfaction, and some felt their peers were unfairly dismissive of them or their work.
Eight years and one female dean later, another review finds that basically, nothing has changed.
A routine report conducted in October by the University of California Academic Senate didn't intend to focus on female faculty members, but concerns about their treatment kept coming up as the committee evaluated the school. "Men and women faculty start off at the school with more or less [the] same levels of satisfaction," the report says. "But at some point after their arrival, many women have the sense that perceptions have been formed, both consciously and unconsciously, that are unfairly negative." It cited "troubling" and "systematic" trends, which led it to conclude that the school is "inhospitable to women faculty."
Of the 145 faculty members listed on Anderson's website, only 26 are women—including Dean Judy Olian, who became Anderson's first female dean in 2006. Women made up only 14.3 percent of tenured professors during the 2012-13 school year. That's significantly less than the national average, which is also lousy: According to the Association to Advance Collegiate Schools of Business, only 20 percent of tenured business school professors are women.
The new report cites Anderson for giving women smaller raises and for making only minimal effort to address the findings in its 2006 report. That's consistent with what female faculty members say. Barbara Lawrence, professor of management and organizations at Anderson, says she once discovered she was being paid $20,000 below Anderson's average salary for a professor of her experience and had to fight for several years before it was fixed in 2009. And in an article about the findings of the report, the Daily Bruin quoted an anonymous female professor at Anderson who said she felt women were judged more harshly than men during the faculty evaluation process and that their work is viewed differently.
In Bloomberg Businessweek's experience, faculty members aren't the only women who aren't being taken seriously. On a visit to Anderson last month, we asked Dylan Stafford, assistant dean of the Fully Employed MBA Programs, what types of students his program takes risks on by admitting them. "Women," he replied. "Their quant skills aren't good, and the applicant pool is lower." (Quant, or quantitative analysis, is part of the GMAT.).
Anderson's Olian paints a different picture. "We have made significant strides since the 2005-06 Gender Equity Report first identified the issue. For instance, we have doubled the number of female faculty, tripled the number of senior female faculty, and dramatically increased the representation of female leaders among speakers and commencement keynotes," she said in an e-mail.
The environment for women in the student body and faculty has also improved, the dean says. "We have seen enrollment of women grow across our MBA, FEMBA, and EMBA programs. We have also enhanced support for teaching, created a behavioral research lab that supports research conducted by many female faculty members, and appointed an assistant dean for diversity."
The issues may be more insidious. "It's a little like radiation poisoning—there are all these little instances, and over time they build up and kill you," says Lawrence, who has been a faculty member there since 1983 and was involved in the original 2006 report. "Talking to people, we found that junior women faculty's experiences were no different from the men on any dimension, except that we were hearing stories about times when they were disregarded or told they weren't good enough. Over time, these little things that everyone ignores add up." The new report agreed, noting that over time, the small slights meant that women's "careers move more slowly" as a result.
It'll take a long time to fix the gender imbalances at Anderson and other schools. Among elite business schools, the percentage of tenured faculty who are women isn't typically much better than UCLA's. And business schools still lag behind the national trends: While women make up the majority of master's degree candidates in the U.S., they account for only about one-third of business school students. "If things continue the way they are right now, mathematically speaking it'll take over 100 years to make the kind of progress the school would like to make," says Lawrence, who studies how to increase the percentage of women in academics. "And that is just math. It doesn't take discrimination for this to happen."
Olian says that Anderson responded to informal feedback on the review by appointing a task force to look at the "gender climate" for faculty. "A major charge of the task force is to go beyond anecdotal evidence, gather comprehensive data on Anderson's current gender climate, and make recommendations so that personally and collectively, we can better understand the drivers of gender climate, and do everything possible to improve it."
That would be a start, but more can definitely be done. In fact, the new report's writers say they tried to meet with "underrepresented minorities" but found "those populations seemed too small for such meetings to be informative" and noted that the position of a dean in charge of diversity initiatives is currently vacant. The report concluded that recruiting minorities wasn't a high priority at Anderson.
As for female students, Lawrence says she thinks that on the whole, they get along just fine at Anderson, but they are aware that most of their professors are men. In fact, the report noted they expressed a wish for more female role models. "Sometimes I ask my students why they took a particular class. I have them write down their answer, and I've had women write, 'I'm taking your class 'cause I've never had a female professor here,'" she says.
Lawrence says one Anderson graduate, who she did not mention by name, sought her out as a mentor because the student didn't fit in well with the bar-hopping MBA culture. "After Anderson, she got a job at Deloitte & Touche, so you know she wasn't exactly a slacker in terms of academics. But she told me that if she hadn't have found me, she wasn't sure she would've finished."
That may not be an option for future students: Lawrence, who's one of the most senior female professors at Anderson, is leaving the school at the end of this year. "I've had enough," she says. "I don't need this."