Skechers Puts Big Money—if Not Its Shoes—on California Chrome
By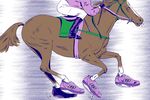 There's no limit to the number of people who can bet on California Chrome winning the Belmont Stakes and completing the coveted Triple Crown. But there is a cap on how many corporations can get in on the action.
The main honors went to Skechers this week for an undisclosed, probably steep sum. The chestnut-colored beast is now draped in a blue Skechers blanket, and the horse handlers are similarly attired. If California Chrome ends up in the winner's circle on Saturday night, expect owners Perry Martin and Steve Coburn to be tromping around in some of Skechers's fancier fare—perhaps these nubuck oxfords.
On first blush, the tie-up between footwear company and hoofed athlete makes little sense. The horse, of course, requires a type of shoe with limited sales potential on the human retail market. And Skechers isn't exactly trying to build up a blue-blood affiliation like the rest of the brands throwing money at the Belmont race, including Knob Creek bourbon, Grey Goose vodka, and Longines watches.
Hermes, which makes saddles, might have been a better fit. Or maybe Cole Haan, which makes riding boots. Ford, meanwhile, has a new Mustang to sell. Skechers has described the pony play as a way to get the attention of older consumers. And the shoe company, like the horse, is based in California.
"I think it's a coup," said Eric Smallwood, senior vice president of Front Row Marketing Services, which analyzes sports sponsorships. "It really gets them into an environment that is not traditionally tied to athletic footwear."
Front Row estimates a sponsorship cost of somewhere around $1 million to drape California Chrome in Skechers gear, with some bonus clauses for a win. That isn't a shockingly high figure in the world of top-flight competitions. Companies pay from $500,000 to $20 million for naming rights on a college football bowl game. General Motors, meanwhile, is spending $560 million to plaster its Chevrolet brand on Manchester United uniforms for seven years, which works out to somewhere around $2.1 million for each regular season game.
All told, Smallwood expects Skechers to realize a fourfold return on its horse-racing investment. As for why the sponsorship fits, Smallwood says: "It's that whole concept of speed." Skechers made a similar bid in backing Meb Keflezighi, a deal that paid off handsomely when he won the Boston Marathon in April.
The rationale, however, may be far more simple: A lot of people will be watching in the hopes of seeing a history-making Triple Crown triumph. At this point, the horse's run is resonating far beyond the demographic borders of even occasional racing fans and well beyond the class that can afford a five-figure watch. Not only has Chrome won two big races, he's done so handily. Then there's the humble-roots narrative: His pedigree is far from perfect, and he was bought for short money.
According to Skechers Chief Executive Officer Robert Greenberg, the strategy was pretty simple. Here's how he broke it down for ESPN:
"We're a marketing company that just happens to be in the footwear business. We're spending a couple bucks to roll the dice, and if this horse wins it all, we'll be part of it."
See the subtle phrasing there? Greenberg is just betting on the horse like everyone else. Unlike the rest of us, Skechers can't lose, so long as millions tune in.
Before it's here, it's on the Bloomberg Terminal.
LEARN MORE