Oil Industry Kills California Assembly Bill to Support Biofuel Expansion
By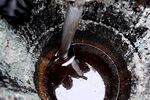 The oil industry did some intellectual gymnastics last week over California's low-carbon fuel standard, a 2007 mandate that gasoline refiners reduce the carbon intensity of their transportation fuels 10 percent by 2020. After arguing for years that there simply aren't enough low-carbon fuel alternatives around to meet the rule's requirement, the fossil fuel companies killed a bill in the state assembly May 29 aimed at—yes—bolstering the supply of low-carbon fuels.
The proposed legislation, called AB 2390, was meant to address what biofuels producers call their biggest hurdle in expanding production: high financing costs stemming from regulatory uncertainty. The bill would have allowed the state treasurer to make long-term commitments to purchase carbon credits at preset prices from producers developing biofuel projects—credits the state could then sell to petroleum refiners that need them to meet their obligations under the low-carbon fuel standard. As it stands now, amid legal challenges to the state mandate and the oil industry's aggressive lobbying campaign against it, the credits' price has plummeted by roughly half since last year. That volatility has made it expensive for biofuel producers to obtain project financing, hampering expansion plans, according to Chuck White, director of regulatory affairs in Sacramento for Waste Management of Houston.
"If California wants to encourage compliance with its low-carbon fuel standard, the state should help finance projects by entering into long-term contracts to acquire carbon credits and smooth out the market," White says. Waste Management can already produce 13,000 gallons a day of low-carbon liquid natural gas from waste products at its $30 million plant east of San Francisco, and it wants to build at least two similar plants at waste sites in Southern California. None of the petroleum refiners in the state, however, will agree to long-term contracts for Waste Management's future carbon credits, White says, making financing the projects too expensive. "We need a more stable framework to allow people to finance these fuel projects" by leveraging their carbon credits, he says.
The bill to establish a state "green credit reserve" was intended to provide a price floor for the credits to reassure lenders that project developers could repay their loans. It had 10 registered supporters, including Waste Management, the public sanitation districts of Los Angeles County, and eight other biofuel producers and trade groups around the state. It had one registered opponent: the Western States Petroleum Association, the trade group that represents the oil industry. The powerful group marshaled several lobbying firms in Sacramento to wage war against the bill, according to a legislative aide to one of the bill's supporters. The proposal was defeated on the assembly floor on a 38-to-23 vote.
"The oil companies don't want the low-carbon fuel standard to survive, so it's not in their interest to enter long-term contracts," says Julia Levin, executive director of the Bioenergy Association of California, a green fuels trade group. "And without long-term contracts, it's very difficult to provide developers the certainty they need to take to the bank."
Tupper Hull, the Western States Petroleum Association's spokesman, says California's low-carbon fuel rule is "infeasible" because enough low-carbon fuel isn't available to achieve a 10 percent reduction in carbon intensity by 2020. If enforced, he warns, the mandate "will create all kinds of mayhem." So why doesn't the oil industry support measures such as AB 2390 that would expand the supply of low-carbon fuels? "You ask a good question," Hull says, before concluding, "Obligating the state to become an investor in this market seemed like an inappropriate policy for the state to embrace."
Before it's here, it's on the Bloomberg Terminal.
LEARN MORE