Mary Barra's Smart Apology Suggests GM Won't Fight Recall Lawsuits
Paul M. Barrett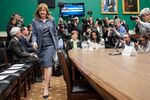 Mary Barra of General Motors has done something unusually bold for a chief executive. In a speech to employees on June 5, she gave a full-throated apology for the defect-and-recall disaster. She announced the firing of 15 employees, some of senior rank. And the company said it would soon begin compensating consumers, possibly millions of them, beginning later this summer.
Reading between the lines of Barra's presentation, one can reach a further conclusion: GM intends to settle, not fight, pending lawsuits concerning injuries and deaths linked to faulty parts.
 
My colleagues at Bloomberg News provided an excellent summary of Barra's statement on a three-month internal company investigation into delays in the recall of 2.59 million small cars with dangerously flawed ignition switches:
"This should have never happened. It is simply unacceptable," Barra told about 1,000 employees at GM's technical center in suburban Detroit. "The report concludes that from start to finish, the Cobalt saga was riddled with failures, which led to tragic results for many," she said.
The investigation confirmed Barra's previous claims that she was previously unaware of the flawed switch. It also cleared GM's top lawyer, Michael Millikin. Ray DeGiorgio, the engineer in charge of the flawed part, and Gary Altman, a program engineering manager, are being ousted among the 15 employees leaving the company, said a person familiar with the matter. Bill Kemp, GM's top lawyer on recalls, was also ousted, said another person. Outside attorneys had warned the automaker as early as 2011 that failing to recall Cobalts could become a large liability, according to the [internal investigation] report.
It isn't surprising that GM commissioned an investigation of itself that determined that there was not a high-level conspiracy to cover up the ignition-switch defects. We'll have to await the conclusion of an outside criminal probe by the Justice Department before determining whether GM's self-exoneration on willful stonewalling turns out to be correct.
By stressing the absence of C-suite conspiracy, Barra apparently hopes to insulate GM from punitive damages in pending civil litigation brought on behalf of consumers, both those hurt or killed in crashes and those with smaller claims about the diminished value of recalled cars. Barra signaled that GM will try to divert as many of those cases as possible into an out-of-court compensation program. The company had previously announced it would hire settlement guru Kenneth Feinberg, who ran similar funds for victims of 9/11, the 2010 BP oil spill, and other disasters.
The Feinberg-run fund will begin accepting claims on Aug. 1. Doubtless some alleged victims will reject a company-sanctioned compromise and demand their day in court. If GM fights those cases, it could suffer not only some heavy jury awards, but also serious damage to its reputation. A Reuters analysis of government crash data has found that "at least 74 people have died in General Motors cars in accidents with some key similarities to those that GM has linked to 13 deaths involving defective ignition switches."
By firing 15 people, Barra seemed to hint that GM will try to settle the worst injury and death cases as rapidly as possible. Here's why: In lesser liability messes, companies normally try to keep executives and senior staff people within the corporate fold as a way to reduce the chances that employees will provide incriminating evidence. For GM "to have basically admitted that there were people at the company who did things wrong, that creates legal exposure for the company itself," Lee Wolosky, a partner at Boies Schiller & Flexner who has advised clients in corporate investigations, told Bloomberg News. "Because the company itself is the one who ultimately bears the exposure in civil litigation, it's not really these individuals. The fact that you have fired people is basically a concession that things went wrong in the company."
That's savvy analysis. And it strongly suggests that Barra and her lawyers have already decided not to do battle in court and instead to settle the big-dollar claims, as well as the modest value-reduction demands. That's the right thing to do, given GM's admitted transgressions, and it's intelligent strategy. GM needs to put a price tag on its liability, demonstrate its contrition clearly, and change the topic of consumer conversation to how the company will make better cars in the future.
Before it's here, it's on the Bloomberg Terminal.
LEARN MORE