In Some Countries, Big Brother Listens In Without Telling Mobile Operators
By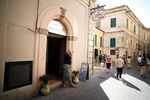 Vodafone, the world's largest wireless operator outside China, says governments in some countries have installed permanent listening "pipes" into mobile networks, allowing authorities to monitor all communications and data without alerting or getting cooperation from network operators.
The situation exists in a "small number" of the countries where it operates, the company said in a report issued today. Vodafone didn't identify the countries, citing national laws barring disclosure of government surveillance practices. It said such bans exist in nine countries where it operates—Albania, Egypt, Hungary, India, Malta, Qatar, Romania, South Africa, and Turkey—but didn't say how many of them had installed permanent surveillance equipment.
Following Edward Snowden's disclosures about government surveillance of the Internet and telecommunications, mobile operators such as Verizon Communications and Deutsche Telekom have started releasing details on the number of surveillance requests they receive. The report by Vodafone, which is based in Britain and has some 400 million customers worldwide, offers the broadest look yet at global practices and the first evidence that authorities in some countries are spying on mobile phone customers without operators' help. (Vodafone doesn't operate in the U.S.)
"The picture is more bleak than previously thought," says Gus Hosein, executive director of the London-based advocacy group Privacy International. "Governments around the world are unashamedly abusing privacy by demanding access to communications and data and, alarmingly, sometimes granting themselves direct access to the networks."
Vodafone said it released its first-ever law enforcement disclosure report to explain "the nature and extent of government powers to order our assistance" in surveillance of its customers. The report lists 29 countries where authorities requested surveillance or other data on its customers, the company said, but it gives no details on the nine where disclosure is barred by law.
Among the 20 countries where details were provided, the highest number of surveillance requests, 605,601, came from Italy, where wiretaps are frequently used in organized-crime investigations. Other countries frequently requested data about the number and duration of calls logged to and from certain numbers, without seeking access to the content of the calls. Britain, for example, requested such data for 514,600 customers.
Hosein of Privacy International praised Vodafone for releasing the report. But he added: "The usefulness of transparency reports hinges on governments abiding by the rule of law. We now know that these reports only provide a limited picture of what is going on."
Before it's here, it's on the Bloomberg Terminal.
LEARN MORE