Hertz Runs Into Accounting Trouble on the Road to a Corporate Split
by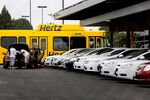 Rental car giant Hertz is splitting its auto and construction-equipment businesses into two companies next year. Before that, however, the company is working to restate financial results for the past three years after discovering accounting problems from 2011.
The errors, which have delayed the company's first-quarter results, relate to "certain non-fleet assets, allowances for doubtful accounts in Brazil, as well as other items," Hertz explained Friday in a filing with the Securities and Exchange Commission. A review begun in March also discovered errors regarding uncollected funds for damaged vehicles and other lease-related monies. Hertz directors have commissioned a larger review of the 2011-13 results, which could also lead to further restatements, including revisions for 2014.
Hertz shares fell 9 percent in morning trading, erasing the stock's advance in 2014. Before news of the accounting problems, shares had gained about 6.5 percent this year.
This week, Hertz announced that Brian P. MacDonald would become chief executive of its equipment-rental business, which will be publicly traded after a separation expected to occur early next year. MacDonald is the former president and CEO of gasoline retailer Sunoco as well as a former finance executive at Dell and General Motors. That company will be called Hertz Equipment Rental, while the vehicle-rental business will retain the Hertz name.
Hertz also said Friday that its U.S. daily revenue from cars fell 1.6 percent from 2013 due to excess fleet-surpassing demand, along with the expansion of its new discount Firefly brand. Last fall, Hertz migrated that brand from Europe to help it compete for budget-minded leisure travelers after it divested its Advantage chain to satisfy regulatory concerns over its acquisition of Dollar Thrifty.
At airports, the Hertz brand saw revenue increase 1 percent due to higher prices. Hertz generally obtains better pricing from airport locations than elsewhere given the preponderance of high-dollar corporate travelers.
Before it's here, it's on the Bloomberg Terminal.
LEARN MORE