Gatorade Claims Victory After LeBron James Succumbs to Cramp in NBA Finals
by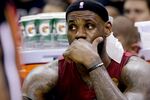 The air conditioner was not working at the AT&T Center in San Antonio for the first game of the NBA Finals. The stifling conditions left spectators fanning themselves, sportswriters kvetching, and LeBron James cramping. The Miami Heat superstar left the game with 7:31 remaining in the fourth quarter, his team ahead by two. He came back in three minutes later with the San Antonio Spurs ahead by four.
James scored a layup before he had to be taken out again because he could not walk. The Heat lost 110-95.
Gatorade, the NBA's official sports drink provider, used the moment to boast on social media about helping players through the heat:
And when James cramped up, Gatorade pointed a finger at Powerade, which James endorses.
@ryanbkoo The person cramping wasn't our client. Our athletes can take the heat.

— Gatorade (@Gatorade) June 6, 2014
Whoever runs Gatorade's Twitter account was probably feeling pretty good last night. The PepsiCo sports drink had won a point over its Coca-Cola-owned rival.
In an e-mail, Powerade spokesman Josh Gold said the drink "has been alongside King James through multiple MVPs, titles, gold medals, and countless 'did you see that??' moments." The brand, Gold added, looked forward "to watching him power through like he's done so many times before."
Reveling in the misfortune of others is a risky move for Gatorade. It's also nonsense to blame Powerade, or any beverage, for James's problems. The connection between dehydration and cramping is widely overestimated.
Two years ago, Gatorade released an ad taking implied credit for Michael Jordan's ability to play through the flu in an NBA Finals game in 1997:
The ad was met with protest from public-health advocates, who noted the danger of encouraging people to play through a high fever. Being "right at home" in last night's stifling heat also flirts with danger. The head of the NBA Players Association called the conditions in San Antonio "completely unacceptable."
Gatorade's dominance in the $7 billion sports-drink market has eroded over the past few years as the number of competitors proliferate. In response the brand has tried to move away from being a hit of sugary hydration for hung-over couch potatoes to a nutrition brand with a range of products for both elite and everyday athletes. Like all companies in that market, Gatorade has to be careful with health claims (PDF) if it wants to stay out of the crosshairs of the Federal Trade Commission.
Last night's old school gloating from Gatorade won't get it into any regulatory trouble. Staying hydrated anyway possible is generally a good idea in sweltering heat. But setting a precedent for credit and blame when it comes to cramps is a risky move.
.@Gatorade @LazyBumDrew Hmmm… are you sure @KingJames wasn't drinking Gatorade last night?? #UpgradeYourSportsDrink pic.twitter.com/UwGZE3qaH5

— BODYARMOR SuperDrink (@DrinkBODYARMOR) June 6, 2014
Update at 1pm: Gatorade has apologized for last night's tweets. "We got caught up in the heat of the battle," the company says in a statement, "As a longtime partner of the Miami Heat, we support the entire team."
Before it's here, it's on the Bloomberg Terminal.
LEARN MORE