Europe Poised for Hot Weather as Solar May Be Record
Julia Mengewein and Rachel Morison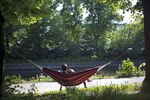 Europe faces hotter-than-usual weather through August as German solar-energy production is set to advance to a record, potentially driving power prices lower.
Five of six meteorologists polled by Bloomberg projected higher-than-usual temperatures in the next three months after the region had its warmest spring in 34 years. Deutscher Wetterdienst, Germany's state forecaster, sees an 80 percent chance that Europe's biggest economy will meet or exceed the seasonal average of 17.1 degrees Celsius (62.8 degrees Fahrenheit) in the period.
European solar capacity is set to more than triple through 2035 from 2010, Citigroup Inc. said yesterday in a report. The region is increasing its reliance on renewable sources at the same time as electricity demand falls, pushing power prices to record lows and curbing profit at utilities from Germany's EON SE to CEZ AS in Prague.
"Power prices for July and August should further drop this summer, I would say as more solar power will hit the market," Ricardo Klimaschka, an energy trader at Energieunion GmbH, said yesterday by e-mail from Schwerin, Germany.
Klimaschka singled out 30 euros ($40) a megawatt-hour as a "good floor" for prices. German power for delivery next month fell 0.5 percent to 31.20 euros at 3:42 p.m. Berlin time, broker data compiled by Bloomberg show. The August contract was at 30.80 euros. German power for delivery in 2015, a European benchmark, touched a record low of 33.65 euros on April 3.
German Solar
Solar output in northern Europe probably will exceed norms, while wind and rainfall will be lower than normal, Todd Crawford, an Andover, Massachusetts-based meteorologist at WSI Corp., said in a report. Solar production in Germany may climb to a record in July on an "ideal day" for generation, Andreas Gassner, an Appenzell, Switzerland-based meteorologist at MeteoGroup Schweiz AG, said yesterday by e-mail.
German solar output reached an all-time high 24,234 megawatts on April 17, according to data compiled by Bloomberg. The average operating margin of 16 European utilities narrowed to 6.9 percent last year from 14 percent in 2004, company data compiled by Bloomberg show.
Europe's installed solar capacity is poised to triple to 56,338 megawatts in 2035 from 17,320 megawatts in 2010, Citigroup said, citing data from the European Commission, the European Union's executive arm.
Solar output should offset higher electricity demand for air conditioning through this summer, according to Gassner. Rain in recent weeks should also prevent any cooling-water shortages, he said.
Meteorologist Forecasts
Meteorologists at DWD, MetraWeather, WSI, MeteoGroup and Commodity Weather Group LLC predicted warmer-than-normal weather in most of Europe for the summer period. MDA Information Systems Inc. sees temperatures near norms in June and July and slightly below normal in August in central Europe.
"The focus of the coolest departures are found in the east, while Iberia, the U.K. and Scandinavia favor a seasonal month," Bradley Harvey, a meteorologist at MDA Information Systems LLC, said yesterday in his August forecast from Gaithersburg, Maryland.
Paris and Amsterdam may have record temperatures for the time of year tomorrow, while Berlin is set for new highs in the June 8-10 period, CWG said in an e-mailed report yesterday. Temperatures will be similar to 2003, the hottest summer in Europe on record, Mike Thomas, a meteorologist at CWG, said in the report.
Gas Benchmark
Mild weather also is weighing on natural gas prices. U.K. gas for delivery next month, a regional benchmark, declined to the lowest price since August 2010 today, according to broker data. Societe Generale SA yesterday reduced its price forecast for U.K. gas in the July-to-September period by 11 percent in a report. In Germany, gas for delivery next month on the NetConnect Germany hub dropped 3.3 percent to 17.15 euros a megawatt-hour, the lowest price since June 3, 2010, broker data show.
German power prices might jump as much as 27 percent in a day if there are unplanned plant failures or renewable generation drops, according to Energieunion's Klimaschka. German nuclear plants go offline in summer for annual maintenance, potentially leading to supply bottlenecks.
"Should any large power plant go offline unexpectedly, that means we can see price increases this summer, to as much as 40 euros" a megawatt-hour for the July contract, he said.
Nuclear Reactors
German grid operator Tennet TSO GmbH warned last month that the simultaneous revision of two nuclear plants would risk grid stability. The power-line manager asked EON to delay maintenance of its 1,410-megawatt Brokdorf nuclear reactor until the company's Grohnde reactor, with a capacity of 1,360 megawatts, came back online after a yearly inspection. A supply of 1,000 megawatts is enough to power about 2 million European homes.
German 2015 power should trade little changed during the summer, Paolo Coghe, a senior analyst for European power at Societe Generale in Paris, said yesterday in an e-mailed report. He expects the contract to average 34 euros a megawatt-hour for the rest of this year. The contract traded today at 34.15 euros.
"Demand from air conditioning and fans won't be enough to make much difference," Coghe said by telephone. "It certainly won't reverse the downtrend in demand."
Before it's here, it's on the Bloomberg Terminal.
LEARN MORE