Deutsche Bank Stock Sale Comes With Warning About Probes
Nicholas Comfort and Michael J. Moore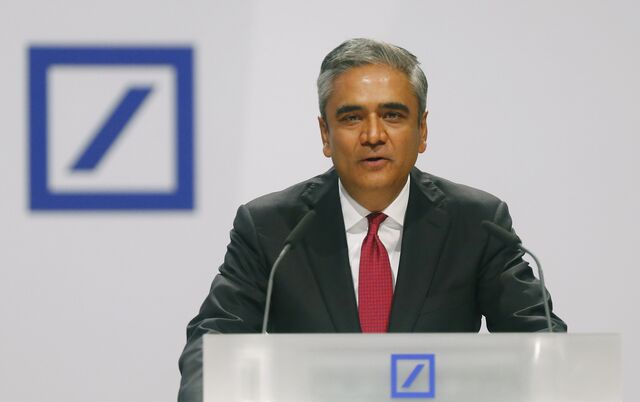 Deutsche Bank AG, seeking to raise $11.6 billion of capital, braced investors for a deepening trading slump and potential damage to its business from international probes of currency rigging and hiring practices.
A "challenging market environment" means the investment-bank division may post a larger year-over-year drop in revenue this quarter than in the first three months, when it fell 10 percent, the Frankfurt-based firm wrote in documents released yesterday for the stock sale. The foreign-exchange inquiries have potential to result in "significant financial penalties and other consequences," it said.
Deutsche Bank, Europe's biggest investment bank by revenue, is looking to strengthen its finances as clients hold off on trades and capital is siphoned by mounting costs from inquiries, lawsuits and tighter regulation. The firm yesterday said it's offering investors 6.75 billion euros ($9.2 billion) of new shares, the main part of a package to raise 8.5 billion euros.
The stock sale "should bring some calm to the constant concern the bank is weakly capitalized as it deals with its litigation bills," said Ingo Frommen, an analyst at Landesbank Baden-Wuerttemberg who raised his recommendation for the stock to buy from hold. "The share sale will be successful unless there's some kind of extreme negative macroeconomic event."
'Poor Environment'
Deutsche Bank led European investment banks lower yesterday after releasing the documents, sliding 3.8 percent in its biggest drop since January. Barclays Plc, the region's second-biggest investment bank, fell 1.1 percent in London.
The European Central Bank yesterday cut its deposit rate to minus 0.1 percent, potentially lowering revenue from bond trading. Deutsche Bank offered to sell its new shares for 22.50 euros apiece, a 24 percent discount to the closing price on June 4.
Deutsche Bank rose as much as 2.3 percent in Frankfurt trading today, and was up 1.6 percent to 27.66 euros by 11:02 a.m. Barclays gained 0.9 percent to 242.40 pounds ($407.45).
Deutsche Bank raised 1.75 billion euros last month selling stock to an investment vehicle of former Qatari Prime Minister Sheikh Hamad bin Jassim bin Jabr Al Thani.
Co-Chief Executive Officer Anshu Jain, a former head of the company's investment banking unit, has said he wants to invest in that business to win market share as competitors retrench.
The division saw a "challenging market environment with low customer volumes and low volatilities in many key areas" during April and May, the bank said yesterday. Revenue at the unit fell to 4.08 billion euros in the first quarter from 4.55 billion euros a year earlier, the company said in April.
Adding Pressure
"Every bank is taking their numbers down in the trading part of the business," said Gary Townsend, a former regulator who now runs the hedge fund GBT Capital Management LLC in Chevy Chase, Maryland. "Across the board, this continues to be a poor environment for bank profitability, except to the extent they can glean economies out of their operations."
While the ECB announced measures yesterday to prevent deflation and support the economy by providing banks with low-cost funding for loans, the record-low interest rates can erode investment banks' profits.
"The low-rate environment has already destroyed the fixed-income, currencies and commodities revenue pool," said Jonathan Tyce, senior banks analyst at Bloomberg Industries. "Lower rates and more stimuli can only add to the pressure."
Deutsche Bank said pretax profit in the unit catering to consumers and small- and mid-sized businesses fell in the two months through May from a year earlier, while earnings at the transaction-banking division showed improvement. The asset and wealth management arm benefited from lower costs, it said. The pretax loss narrowed in the unit winding down assets that the firm doesn't view as central to its business, the filing shows.
Forex Investigation
The probe of foreign-exchange trading is roiling an industry already under pressure to shrink costs. At least a dozen regulators are examining allegations that traders at some of the largest banks manipulated benchmarks in the $5.3 trillion-a-day currency market.
The inquiries began after Bloomberg News reported last June that traders had colluded to rig WM/Reuters rates used by investors and companies around the world. Deutsche Bank said it's conducting an internal investigation.
"The bank has taken, and will continue to take, disciplinary action with regards to individuals if merited," it wrote in the documents released yesterday. It's cooperating with authorities on multiple investigations, it said.
Separately, several global investment banks came under scrutiny after the U.S. opened a criminal investigation last year into whether JPMorgan Chase & Co. violated anti-bribery laws by employing children of China's elite. None of the firms has been accused of wrongdoing.
Italy Probe
"Certain regulatory authorities are examining Deutsche Bank's hiring practices in the Asia-Pacific region to determine if any candidates were hired on the basis of referrals from executives at government entities," Deutsche Bank said.
Regulators also are examining how the bank's managers supervised people involved in arranging deals for Banca Monte dei Paschi di Siena SpA, which the Italian bank used to hide losses. The German lender said it began procedures to discipline employees.
The deals came to light in 2013 when Bloomberg News reported that Monte Paschi used a transaction with Deutsche Bank, dubbed Santorini, to mask losses from an earlier derivative contract. Weeks later, the Siena, Italy-based lender restated its accounts to reflect the losses from Santorini and a similar deal with Nomura Holdings Inc.
Deutsche Bank and Monte dei Paschi, Italy's third-biggest bank, agreed in December to terminate the transaction 17 years early. Siena prosecutors are still examining the original transaction, and Deutsche Bank's financial exposure from the probes could be material, it said.
Before it's here, it's on the Bloomberg Terminal.
LEARN MORE