Bombardier Breathes a Sigh of Relief Over Its Blown Engine
by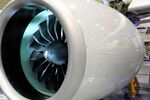 For a delayed aircraft program, an engine fire during testing is a gut-wrenching experience. That's the situation at Bombardier, which suffered an engine failure and fire last month on an advanced fuel-efficient engine used in its new CSeries jet.
Bombardier expects flight tests to resume in the next few weeks and does not believe the failure relates to the new engine's basic technology, a company spokesman said on Friday. The May 29 failure occurred during ground tests on the new geared turbofan engine and also damaged the test aircraft, one of four that Quebec-based Bombardier had been flying before the fire.
The defect is thought to be related to a manufacturing problem and not a design flaw in the gear box, the more technically advanced part of the engine, Bombardier spokesman Marc Duchesne said, echoing comments Chief Executive Officer Pierre Beaudoin made earlier this week in a meeting with a UBS analyst.
Bombardier had flown its CSeries test airplanes about 330 hours before the engine incident. The company still plans to deliver the first CSeries in the second half of 2015, following a nine-month delay. Sales have been lean so far; two of the buyers are Lufthansa and regional carrier Republic Airways Holdings.
The geared turbofan technology allows the engine's fan to run at different speeds and generally runs hotter than alternative jet engine designs, but it results in more efficient fuel burn and quieter operation. Pratt & Whitney, a division of United Technologies, says the model on the CSeries is 16 percent more fuel-efficient than other engines of similar thrust.
Larger models based on the technology are also planned for use on the new Airbus A320neo.
Before it's here, it's on the Bloomberg Terminal.
LEARN MORE