Abdullah Survives Afghan Suicide Attack on Convoy as 6 Dead
Eltaf Najafizada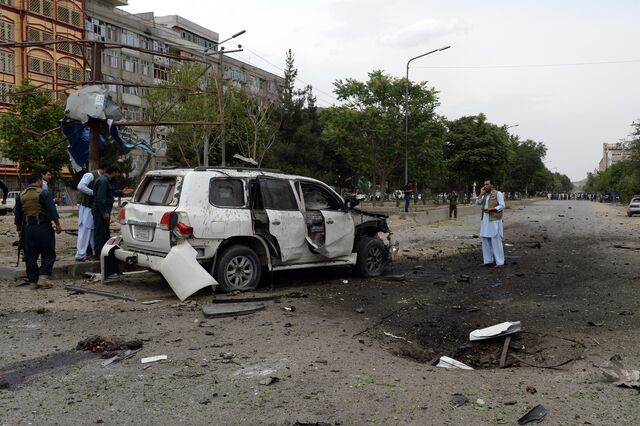 Afghan presidential candidate Abdullah Abdullah survived a suicide attack on his convoy in Kabul today that killed six people, raising tensions before next week's election.
A bomber blew himself up as Abdullah and his entourage transited between campaign events, according to an interior ministry statement, which said 22 people were wounded in the attack. The former foreign minister won the most votes in the first round of the election and faces former World Bank economist Ashraf Ghani Ahmadzai in the runoff on June 14.
"A part of our vehicle in the convoy was hit by a bomb and damaged, but we are all fine," Abdullah said in televised comments afterward at his next campaign event. "Only some bodyguards were wounded."
The Taliban has vowed to kill voters picking a successor to Afghan President Hamid Karzai in an effort to roll back democratic gains made since the U.S. invasion in 2001. President Barack Obama said last month that U.S. forces in Afghanistan will be reduced to 9,800 by the end of this year, with only a small security assistance force at the embassy by the end of 2016, as he prepares to leave office.
Karzai condemned the attack and said it was carried out by "enemies of Afghan people who don't want Afghans to elect its president in a peaceful election." New elections must be held if a presidential candidate dies before the declaration of election results, according to the constitution.
U.S. Agreement
Both Abdullah and Ghani have pledged to sign a bilateral security agreement with the U.S. that would allow the troops to remain in Afghanistan and pave the way for billions of dollars in aid money.
Abdullah won 45 percent of more than 7 million votes, with Ghani taking 32 percent. Both have picked up endorsements from other candidates after the first round and say they are confident of winning the runoff.
Abdullah, 53, is half Pashtun and half Tajik. As foreign minister under Karzai, he was a close aide to Northern Alliance commander Ahmad Shah Masood, an ethnic Tajik seen by many Afghans as a national hero who fought against Soviet occupiers in the 1980s and the Taliban in the 1990s.
Ghani is an ethnic Pashtun who served as Afghanistan's finance minister from 2002-2004 and finished fourth in the 2009 election. He holds a doctorate in cultural anthropology from Columbia University in New York.
Pashtuns account for 42 percent of Afghanistan's 32 million people, while Tajiks make up 27 percent, according to the CIA World Factbook. Uzbeks and Hazaras account for 9 percent and other groups comprise the rest.
Before it's here, it's on the Bloomberg Terminal.
LEARN MORE