At Wal-Mart's Annual Party, a Focus on Better Times to Come
by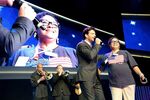 Wal-Mart's annual shareholder meeting is as scripted as a royal wedding—but with better music. Some 14,000 attendees, most of whom work for the giant retailer, turn out for the days-long celebration. Friday's finale at the Bud Walton Arena in Fayetteville, Ark., ran more than three hours, with Harry Connick Jr. as the host and performances by Pharrell Williams, Robin Thicke, Sarah McLaughlin, and Aloe Blacc. Everyone took selfies.
"I have had a blast," Connick said at the end. "Wal-Mart knows how to throw a party."
The fun came as a change of pace for the senior executives in attendance, who have been contending with declining sales in the U.S., concerns about how Wal-Mart Stores, the world's largest retailer, treats its workers, and an ongoing federal investigation into allegations of overseas bribery. Doug McMillon, the new chief executive, acknowledged those issues briefly. "We care about our associates and our farmers and factory workers. We care about how they're treated, how they're compensated." He also noted that Wal-Mart had improved its compliance program: "We are committed to conducting business in an ethical matter," McMillon told the crowd.
Shareholders had proposed three resolutions to address some of these concerns. One called for an independent chairman; Wal-Mart's current chairman, Rob Walton, is the eldest son of founder Sam Walton. Another proposed an annual report on lobbying expenditures. The third asked for an annual report on recoupment of executive pay in the case of ethics violations.
None received enough votes to pass. Shareholders voted to reelect all 14 board members. Greg Penner, Rob Walton's son-in-law, was given the new title of vice chairman.
What the executives mostly talked about, though, was the fun stuff over the horizon. Wal-Mart is preparing for the new world of retail, they vowed, an era in which the digital experience won't be separate from the physical. McMillon and the heads of U.S. and international operations each mentioned how Wal-Mart is coming up with new ways to deliver its goods to customers.
McMillon showed off action figures of his colleagues created with 3D printers and said he could imagine a time when Wal-Mart could use the technology to make replacement parts and household items. The chief executive concluded by talking about Sam Walton. "We have the ability to drop everything and turn on a dime," he said. "Sam would say, 'Go.' He might even say, 'Hurry up.'"
Before it's here, it's on the Bloomberg Terminal.
LEARN MORE