Who Has Wal-Mart Punished in Its Bribe Probe? Some Shareholders Want to Know
By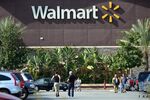 Wal-Mart Stores' annual meeting on Friday will be full of praise for the world's biggest retailer. There will be music and celebrity appearances. There will also be protests for better wages.
And there will be a few shareholder votes (PDF) on issues the company considers already settled. The first vote will weigh whether Wal-Mart needs an independent chairman—that is, somebody other than Rob Walton, eldest son of founder Sam Walton. Shareholders will also consider the question of how much information the company should provide about clawbacks.
Such a great word: clawbacks. Companies, of course, prefer to call them "recoupment policies." The idea is that the board of directors can require executives to forfeit or pay back compensation if they violate the company's ethics standards or harm the company in some other way. Wal-Mart says that it abides by Securities and Exchange Commission requirements to disclose such information about its chief executive officer, chief financial officer, and other executives in a group that last year included six people in all.
The company doesn't want to broaden its disclosures beyond those executives, as the shareholder resolution calls for. Nor does Wal-Mart want to provide an annual report on its recoupment decisions. "We do not believe that expanding the disclosure requirements to all current and former 'senior executives' is warranted," Wal-Mart stated in its proxy filing (PDF), which reaffirmed its commitment to the policies generally. A clawback report, it said, "would deprive the Board of the ability to exercise judgment and discretion with respect to the disclosure of potentially sensitive information."
Wal-Mart has spent a fortune the past two years investigating allegations of bribery and corruption in its international operations, and the company is cooperating with a federal probe. In April, Wal-Mart disclosed legal fees and compliance costs of more than $400 million so far, and the company could spend $200 million to $240 million this year.
But has Wal-Mart clawed back any pay? Not as far as the six executive officers are concerned. And, of course, the retailer doesn't have to say anything about those lower down the chain of command.
"We're asking for transparency on the policy to signal to investors and employees that the policy has teeth," says Scott Zdrazil, the director of corporate governance at Amalgamated Bank, which is among those sponsoring the proposal. Scott Stringer, the New York City comptroller, who has worked with other companies on this issue, said via e-mail: "The board's intransigence is especially troubling given the company's legal woes, and contrasts with the seven major companies that agreed to disclosure this year in response to requests from the City's pension funds."
Meanwhile, the audit committee of Wal-Mart's board of directors did share some information on a related matter. They reviewed whether any senior executives should lose part of their cash bonuses for not making sufficient progress last year on the new compliance program. The committee concluded that this wasn't necessary.
Before it's here, it's on the Bloomberg Terminal.
LEARN MORE