Tattooed Quarterback Colin Kaepernick Got Copyright Waivers to Appear in Video Game
by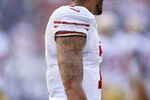 The arm tattoos on San Francisco 49ers quarterback Colin Kaepernick will be duplicated on his digital avatar in the next "Madden" video game. Screen shots from the Electronic Arts game, set to be released August 26, show the biblical psalms and other religious references inked into the biceps of the virtual Kaepernick.
According to ESPN, Kaepernick secured copyright waivers from the two tattoo artists who drew on his skin to include their work in the game. If so, that would make Kaepernick the most high-profile example of an NFL player heeding the advice of his union when it comes to clearing tattoos.
Both the NFL Players Association and EA insisted on it in this case. "We'd love to secure the rights to the tattoos of other players in the future," Seann Graddy, senior producer for "Madden 15″ told ESPN. As I wrote last fall, EA and other video game makers have been sued in the past for recreating tattoos in their products without permission from the artists. So have Nike and the makers of The Hangover Part II.
None of these cases has made it far enough for a judge or jury to begin to set precedents around unsettled questions about tattoos and copyright. "All we are doing is proactively telling players, 'Yes, we know you love your tattoo artists, but regardless of whether or not you trust them, regardless of whether or not there are legal merits to the lawsuits that we've seen, just protect yourself,'" George Atallah, the NFLPA's assistant executive director of external affairs, told me in September.
Apparently Kaepernick was listening.
Before it's here, it's on the Bloomberg Terminal.
LEARN MORE