Sohu Blog Editor Detained for Making Fun of Mao Worship
By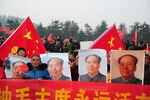 Don't mess with Mao. That seems to be the message, following reports that Zhao Mu, a veteran journalist and director of China website Sohu.com's blog channel, has been detained by police in Beijing.
Zhao's apparent crime: making fun of Mao worship. Zhao is being held on suspicion of "picking quarrels and provoking troubles," reported EJInsight.com, the English website associated with the Hong Kong Economic Journal, on June 5. Zhao was detained for almost a year for participating in the Tiananmen protests in 1989, the report also said. Separately, Beijing lawyer Liu Xiaoyuan confirmed the detention and charge against Zhao, in an interview with the New York Times.
When asked whether Zhao had been detained, a woman who answered the phone at Sohu headquarters after office hours, responded by saying, "sorry, I don't know," but confirmed that Zhao did not come to work today. She declined to give her name, saying, "it's not convenient."
According to a screenshot circulating online, Zhao earlier this week posted on his microblog a Photoshopped, Cultural Revolution-era black-and-white photo showing young students posing before a blackboard with phrases lauding Mao Zedong. While the original photo had the phrase "Chairman Mao is the red sun in our hearts," the doctored one (apparently now deleted) read: "Chairman Mao is the Quannengshen in our hearts."
Quannengshen, which means "Almighty God," is the name of what Beijing is labeling a religious cult. It recently gained notoriety after six cult members were accused of murdering a woman for refusing to give them her phone number, in a McDonald's in eastern China on May 25.
Chinese party secretary Xi Jinping has frequently referred positively to Mao since taking power in November 2012. Xi has also used the Great Helmsman's tactics, resurrecting the practice of cadres making self-criticisms and launching a Maoist "mass line" movement, which he has said is aimed at ensuring that the Chinese Communist Party remains close to the people.
"Content with the potential to delegitimize CCP rule is systematically censored. Criticism of top leaders or policies, both present and past, is almost always controlled—a category that encompasses the legacy of Mao Zedong," wrote Freedom House in "FREEDOM ON THE NET 2013 A Global Assessment of Internet and Digital Media," released last October. Freedom House is in Washington, D.C.
Before it's here, it's on the Bloomberg Terminal.
LEARN MORE