SAC's Steven Cohen Is Still Defiant, Possibly Humbler
By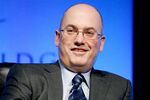 Over at New York magazine, Steve Fishman has an intriguing profile of SAC Capital-turned-Point72 Asset Management founder Steven Cohen that offers one of the most intimate looks so far at how the multiyear insider trading investigation has affected the billionaire.
One thing seems clear: The seven-year, multi-agency investigation of Cohen, which resulted in charges and an enormous $1.2 billion fine levied against his firm, plus the still-pending possibility that Cohen will be banned from the securities industry for life, has shaken the investor, but he still insists he's done nothing wrong.
Before the investigation became so prominent, the magazine suggests, Cohen had made a decision to refashion himself as something of a globe-trotting intellectual financier in the mold of George Soros. He attended Davos and made an appearance at the 2011 SALT hedge fund conference. In March 2012, he made a $1.6 billion bid for the Los Angeles Dodgers and prepared himself for the new, more public life he was certain would accompany his role as a baseball team owner. When another group of investors outbid him, he was crushed.
A few months later, Manhattan U.S. Attorney Preet Bharara and the SEC charged former SAC Capital portfolio manager Mathew Martoma with masterminding a record insider trading scheme, which brought them closer than ever to Cohen himself.  Since then, in addition to fighting the charges against him and his company, Cohen, the piece suggests, has spent much of his time trying to keep his firm together and railing against the injustice of the whole thing. According to New York:
"Everyone is wondering if the firm will make it to end of year. And if they will get paid," a portfolio manager said to Cohen. "Cohen jumped out of his seat and shouted, 'I'm not closing the office! You will get paid! I guarantee it!'"
The most poignant moment in the story comes when Cohen discusses his legal troubles with his four youngest children, all daughters, at their house in East Hampton. According to Fishman's account, his wife Alex had been trying to keep the news hidden from them, a task close to impossible in the digital era. But rather than using the moment as an opportunity to discuss ethics, Fishman suggests, Cohen dug in his heels.
"People in the company have done things that are wrong, and they're going to pay for what they did," he said. His position was that he'd been betrayed by them. "I didn't do anything wrong," he assured his children.
Remarkably, Cohen does not seem to acknowledge that things could have been much worse. He still has his freedom, his mansions, and his billions, while several of his employees have been convicted and may go to jail. As is often the case, the Wall Street mogul misses the bigger picture, but it hasn't escaped his wife. "Alex, for one, saw a benefit in her husband's difficult passage," Fishman writes. "It had taught him a valuable lesson. He was humbler and wiser, and realized how lucky he was, especially compared with some of his former employees."
Before it's here, it's on the Bloomberg Terminal.
LEARN MORE