Is Chris Dancy the Most Quantified Self in America?
One man's project to keep track of everything he sees, does, thinks, eats …
By



Ask Chris Dancy what he ate on Aug. 11 of last year, and he can tell you (Chick-fil-A). He can also tell you about the weather that day (83F), what music he listened to (Kelly Clarkson's Walk Away), how many e-mails he sent (21), how long he slept (8 hours and 35 minutes), how many steps he took (8,088), and when he took his dogs to the park (1:04 p.m.). Dancy, 45, doesn't have an amazing memory. He's an extreme life hacker: He collects information about himself and his surroundings from 10 devices he wears or carries and 13 more in his home and car. He also catalogs virtually all of his online activity. The exhaustive record-keeping is an effort to discover the systems that shape his behavior so he can tinker with them and live better.
Dancy's project began five years ago when he started archiving his tweets. Twitter didn't make them searchable at the time, and Dancy wanted to collect them as a kind of diary. He also started dumping his Facebook posts and status updates into spreadsheets. "Then it just became a domino effect," he says. He began using any device he thought would help him find his quantified self. He funneled the data into his Google calendar, which is perhaps the world's most thorough, searchable diary. Everything his sensors track (weather, exercise, sleep patterns) and everything he does online (photos, e-mails, Amazon.com purchases) gets dumped into the calendar with a time stamp and a color code for one of 10 "buckets."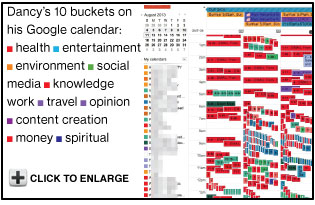 The result is a multicolor, proliferating array of information that is, according to Dancy, full of unexpected correlations. During his first self-improvement project—to lose 100 pounds—he discovered that he ate worse after binge-watching TV shows. It didn't matter which show, only that his caloric intake increased whenever he watched episodes of the same show back to back. Now he still might watch four hours of TV, but he mixes it up: an episode of Dexter followed by True Blood, then Californication. He also found he ate better when he slept better and slept better when air quality was better, so he changed the rugs near where his dogs come and go through their door dragging in dust. He says he lost 20 pounds simply by identifying such correlations and changing his behavior accordingly. From there it was a matter of setting rules: If he wanted fast food, for example, he had to walk to get it—until he was ready to adopt plain old exercise routines.
In March, Dancy left his job as an information technology director at a software company in Denver to go full-time making presentations about "data-assisted living." He speaks at conferences on health, finance, technology, and just about anything else. "They don't pay a lot, but I'm hoping they pay enough that I can keep myself going," he says. And if he does go broke, he'll know exactly how it happened.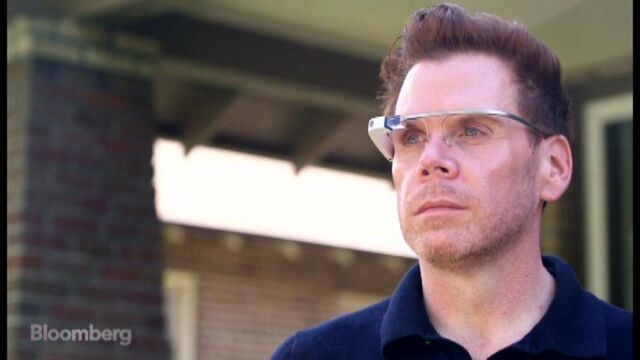 Before it's here, it's on the Bloomberg Terminal.
LEARN MORE