He Who Drives the Supercar First, Wins
by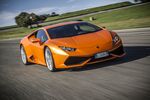 "Think of horse racing. When they first open the starting gates, the amount of power that is unleashed is incredible. They call it the greatest two minutes in sports," says Eric Schwertzel, supercar collector and member of Manhattan's Classic Car Club. "It's that same thrill."

Schwertzel, 45, is trying to explain what it's like to be among the first civilians to drive a supercar. At the moment, he's having to raise his voice over the Led Zeppelin blasting on loudspeakers into a steel-topped bar area and black leather lounge full of men fueling their four-wheeled fever with tumblers of ice soaked scotch.
The thirty-odd members are surrounded by a pristine convertible Ferrari Spider, a hot orange McClaren MP4-12C, and a 1966 baby-blue Ford GT 40 (you know, the one Steve McQueen drove). There's $4 million worth of cars sitting in this industrial chic Soho garage during happy hour. But so what? These guys have already taken these beauties out. Now, they want the thrill of the chase.
Welcome to the supercar race. In it, the new $55,000 Alfa Romeo 4C, expected to hit dealerships this summer, and the $240,000 Lamborghini Huracán LP 610-4, due this September, will go to the fastest bidders.
"I'd never turn down a chance to drive that Lambo. It's modeled after fighter jets, so it probably feels more like being launched than driving," says Winston Shih, a 46 year old Harley Davidson executive, setting his drink down onto a coffee table made of what looks like engine parts. "But I need more points for that."
To get in the door, members at this 350-member Classic Car Club pay $165 worth of maintenance fees per month. But to reserve the cars, members need varying degrees of points depending on the price of the car. Think of it like using points to book the best booth at a restaurant.

For example, the club's 'Silver' point package ($4,750 for 400 points) gets you 'standby' access to the relatively least expensive, non-exotic cars only. (And you better hope you pick a slow weekend.) The 'Gold' package ($8,500 for 850 points) means you can reserve more of the fleet, including snazzy vintages like the 1963 Corvette Stingray, but no exotics. Finally, the holy grail: the 'Platinum' package ($14,000 for 1500 points) grants access to supercars. It's first come, first serve and while you can buy more points at any time, they spend fast. (It takes 512 points to take the 458 Spider Ferrari out for one weekend.)
Demand drives spend, and the new Huracán is a prime example: It accelerates from 0-60 mph in 3.2 seconds and sold out via pre-orders promptly after its 2014 Geneva Motor Show debut. (No owner has one in hand yet, but the earlier you pre-order, the closer to that $240,000 MSRP you'll probably end up paying..) "Italian sentimentality and German engineering is a really good combo," says Schwertzel. "But they used to be so unreliable the big joke was you needed an Italian mechanic in the trunk."
Now that Audi makes Lamborghinis, car critics say they're much more fun to drive. And the Huracán reportedly out-performs its own German-made predecessor, the Gallardo 570-4.
In the Classic Car Club, Bill Withers is singing "Use Me" now, his funk beats underscoring a passionate speech by a mohawked 29-year-old debating the relative value of the Huracán – never having driven it himself. His opponents are two 40-something Hugo Boss suits in a leather couch corner.
This goes on until co-owner of the car club Zac Moseley, 36, casually mentions that "the Maserati dealers finally took my order for the Alfa Romeo 4C."A hush falls over the group. Now, she is hard to get. This year only 500 4Cs will enter the U.S. market, the first offering since Alfa Romeos were pulled from America in 1995, according to Car and Driver.
Buyers, Keepers
Outfits like Auto Exotic Rental and its competitor Gotham Dream Cars are busy placing their own supercar pre-orders with dealerships.While their business model is a bit different (their speed-demon renters pay between $1,300 to $5,000 per day for exotics), the pressures to be first are the same.
"It's our business to be ahead of the game, and carry the newest models of exotic cars," says Auto Exotic Rental owner Nasser Edlibi. "It's a very competitive market, and we need to remain enticing to our clients."
While Edlibi's busy buying 15 to 20 new cars per year, the Classic Car Club also sells and replaces about a dozen cars in their fleet of 40 annually in order to keep the business humming. For both, it's paying off; Edlibi expects to grow revenues by 25 percent this year, and Classic Car can now afford to wait list wanna-be members. Gotham too claims to have doubled its revenue since 2011.
But why rent at all -- isn't it better to own? No way, is the typical city-dweller's answer. Exotic cars are notorious for depreciating faster than they can cruise out of dealers' lots. And in Manhattan, it can cost $10,000 a year to own, park and maintain a Honda Civic, let alone a pimped out Ferrari.
"Let the club eat the depreciation," shrugged Classic Car Club member's Eric Schwertzel, before snapping a selfie next to a 1963 Corvette Stingray.
Smoke and Mirrors
Much of this "be first-or-lose supercar street cred" atmosphere is created and encouraged by car makers themselves. By announcing and making multiple 'limited edition' model variations, the thrill of the chase begins anew. Take Bugatti's 16 Veyron models, for example: the Grand Sport, the Sang Noir, the Nocture, the Sang d'Argent, etc... Lamborghini does this too: the Gallardo alone has not 16, but 23 versions of itself.
"They're attempting to manage the exclusivity of their car, while at the same time, making thousands of them," says Classic Car Club co-owner Michael Prichinello.
In a recent Bloomberg interview, Lamborghini's CEO Stephan Winkelmann, called this strategy the key to luxury: "Always sell one car less than demand."
Are they taking this whole supercar thing too seriously? Let's put it this way: Lambo names all of its cars after fighting bulls. Funny, then, that the Aventador, Gallardo, and Huracán all look like mechanical sharks.
Before it's here, it's on the Bloomberg Terminal.
LEARN MORE