Daimler's Smart Car Nears Relaunch of Four-Door ForFour
After $4 billion in losses, the compact Smart car is getting bigger
by
In 1998, Daimler made a brash gamble based on a simple idea: that people in cramped cities wanted a cheap car so small that parking would never be a problem. The two-passenger, two-door Smart car hit the market with a $9,150 price tag, measuring 98 inches long, 60 inches wide, and 61 inches high.
Sixteen years later and after more than $4 billion in losses, according to estimates by Bankhaus Metzler, the German automaker figures the diminutive car has a problem—it's too small. In July, Daimler will introduce an upgrade of its ForTwo model and roll out the four-door ForFour to try to reignite interest in Smart cars.
The ForFour is bigger, but not too big, because Daimler plans to challenge other so-called city cars, such as the Fiat 500, the Volkswagen Up!, and General Motors' Opel Adam. The ForFour will be about 11.5 feet long, 30 inches longer than the original ForTwo, but about 2 inches shorter than the 500 and the Up!, the bestselling city car in Germany. Its engine will be in the rear, shortening the hood and offering more legroom.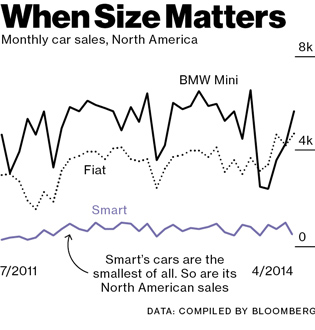 The fewer inches and extra space could be a crucial advantage for Smart. As urban populations grow, global sales of small city cars are expected to increase 35 percent by 2020, to 6.2 million vehicles, according to research company IHS. Such vehicles have been most popular in Europe, where parking is harder to come by than in many U.S. cities. "When I drive into the city, I don't need to worry about searching for a parking space," says Ralf Waitschies, a travel agent near Hamburg who's driven Smarts since 2000. "There's always a spot available."
The new car is Daimler's second attempt at a four-door city car. A previous version of the ForFour, modeled on Mitsubishi Motors' Colt hatchback in a joint venture, was rolled out in 2004. It looked nothing like the ForTwo and was pulled off the market in 2006—the same year Daimler canceled plans to build a Smart sport-utility vehicle. This time, Daimler is teaming with Renault to design and build the new Smarts—which do resemble the smaller car. As much as 75 percent of the parts in the revamped two-seater and the four-seater, as well as in Renault's compact Twingo, will be identical, cutting production costs. (The ForFour and the Twingo will be built at Renault's factory in Novo Mesto, Slovenia.)
Broadening Smart's appeal will help Daimler's Mercedes-Benz brand, which lacks a mass-market car. Increasing sales of Smart would also help Daimler sell more high-margin models such as the Mercedes S-Class while still meeting tight environmental regulations. Smarts help lower Daimler's average fleet emissions.
The stakes are high for Daimler, says Stefan Bratzel, director of the Center of Automotive Management at the University of Applied Sciences in Bergisch Gladbach, Germany, and a former Smart marketing manager. Smart never lived up to an original goal of delivering up to 200,000 autos a year, and global sales, which peaked at 139,000 in 2008, were 98,200 last year.
IHS predicts Smart deliveries will almost double, to 182,900, next year. "It will be quite a long way before they turn a profit," says Jürgen Pieper, a Frankfurt-based analyst with Bankhaus Metzler. "But expansion is the only way." Says Bratzel, "They've only got one shot at this and have to get it right this time."
Before it's here, it's on the Bloomberg Terminal.
LEARN MORE