China Revamps Citic for a Jolt of Capitalism
The state-owned giant shifts assets to Hong Kong to attract investors
By and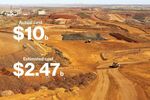 In 1979, China's paramount leader, Deng Xiaoping, sat down with some old industrialists who'd survived the revolution for a lamb hot pot. The conversation, in a room shrouded in cigarette smoke, was about invigorating the economy, and the brainstorming gave rise to Citic Group, the state-owned investment company at the forefront of China's experiments with economic and financial liberalization. The conglomerate has grown into the nation's biggest diversified company, with total assets of $669 billion at the end of 2013, according to the company, and interests in everything from real estate to banking to golf.
The government is turning to Citic again to shake up the economy. In a plan announced in March and to be completed by August, $36 billion of Citic's assets from at least 29 subsidiaries will be transferred to its Hong Kong unit, Citic Pacific, to create a new company, Citic Ltd.
Citic Ltd. will merge overlapping businesses that currently compete with one another in areas such as real estate and steel. "Citic's restructuring is part of the Chinese leadership's new push to overhaul the governance and financial performance of state-owned enterprises, which have been terrible," says Andrew Batson, the Beijing-based China research director at Gavekal Dragonomics, an economic research firm.
Trading on the Hong Kong stock exchange, Citic Ltd. will be more accessible to global investors than the company would be on the mainland, where foreign investment is restricted. Being located at some distance from Beijing may mean Citic Ltd. looks less like a state-owned enterprise, which could make it easier for the company to complete acquisitions abroad. Foreign regulators have blocked purchases by state-owned companies such as Cnooc and PetroChina, citing national security concerns. "It's a win-win deal," Citic Group Chairman Chang Zhenming said at a press conference in Hong Kong in April, adding that the reorganization "will generate value" by enabling mergers, spinoffs, and other moves.
Citic Group, which is controlled by the State Council—China's cabinet—and the Communist Party, will own as much as 85 percent of Citic Ltd. That means the shift of assets will give Beijing officials a stronger presence in Hong Kong. The former British colony, returned to China in 1997, has a separate legal and economic system, but tension is simmering there over China's role. Demonstrations calling for more democracy are a weekly fixture in the city's streets. "Beijing wants to step up influence, especially in the last couple of years," says Joseph Cheng Yu-shek, a political science professor at City University of Hong Kong. "Hong Kong is increasingly seen as disobedient due to the desire for political reforms."
With financial services, resources, and energy accounting for more than half its revenue, Citic Ltd. would have reported a net income of an estimated HK$48 billion ($6.2 billion) for 2013, according to Citic Group, compared with HK$8 billion for Citic Pacific. Citic Group's publicly traded subsidiaries, including China Citic Bank and brokerage Citic Securities, will continue to trade as separate businesses in both Shanghai and Hong Kong. "This will give Citic Pacific a completely new look and focus, prompting investors to reevaluate the company," says Tim Leung, a portfolio manager at I.G. Investment Management in Hong Kong. Citic also expects Citic Ltd. to have a better credit rating than Citic Pacific, which is being absorbed.
For the first time, Citic's publishing house and trust-investment unit will be listed. Citic Trust is the largest of China's 68 licensed trust companies, which, as part of China's world of shadow banking, offer high-yield returns mostly to wealthy individuals by investing in risky sectors such as real estate and mining. "No one has even seen some of the businesses in this group, such as publishing, tourism, and trusts, being listed before in China," Chang says. "It's certainly an innovation."
Citic Pacific has a troubled history that includes billion-dollar losses on currency bets and the development of an Australian iron-ore mine that has been beset by cost overruns and delays. Some doubt that the move to Hong Kong alone will solve Citic's problems. "Being listed in Hong Kong doesn't bring any market discipline," says Fraser Howie, co-author of the book Red Capitalism: The Fragile Financial Foundation of China's Extraordinary Rise. "Look at Citic Pacific. What was the international restraint that stopped them from doing that disastrous mine in Australia?"