BNP Futures Traders Betting Dividend to Be Cut in Half
Todd White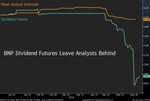 The prospect of BNP Paribas SA being given a $10 billion fine is doing more than threatening the French bank's profit -- it's cutting investor expectations for the 1.9 billion-euro ($2.6 billion) annual dividend.
Buyers of dividend futures, contracts that rise and fall with expected corporate payouts, are betting the payment from 2014 profit will be lowered 50 percent to 75 euro cents. As the CHART OF THE DAY shows, that's at odds with estimates from analysts surveyed by Bloomberg, who continue to see an increase.
"It could be that Street analysts are behind on this issue," said Timothy Ghriskey, who helps manage $1.5 billion as chief investment officer of Solaris Asset Management in New York. "A dividend decrease is certainly possible."
With dividends, analysts often wait for bad news to become definitive before reacting, whereas futures traders can't afford to wait, according to Ghriskey. BNP Paribas's dividend contract expiring in December 2015 plunged 58 percent after people familiar with the matter said the U.S. is seeking more than $10 billion to settle a probe into violations of trade sanctions.
In April, before speculation first erupted about such a fine, the futures signaled a 2.08 euro dividend. The average analyst estimate is for an increase to 1.95 euros this year from 1.50 euros paid last year.
Before it's here, it's on the Bloomberg Terminal.
LEARN MORE