Alibaba's Jack Ma Is Buying a Chinese Soccer Team
By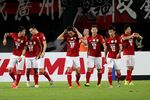 As he gets ready for what could be a record-breaking initial public offering in the U.S., Jack Ma has found a new toy. The founder of Chinese e-commerce giant Alibaba Group was in the southern Chinese city of Guangzhou today to announce that Alibaba is purchasing 50 percent of a local soccer team for 1.2 billion yuan, or $192 million.
The deal for Guangzhou Evergrande Football Club might seem an odd direction for Alibaba, which dominates consumer shopping in China through its Taobao and Tmall websites. And Ma's vague explanation to reporters today wasn't very helpful. "At Alibaba our strategy is health and happiness," Ma said. "Investing in soccer is investing in happiness."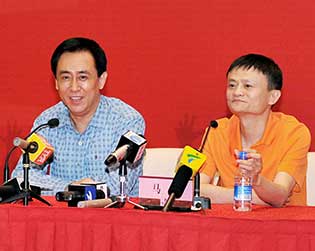 So is Jack Ma channeling Pharrell Williams, clapping along on his way into the Chinese soccer world? Who knows? Soccer may indeed make the Chinese billionaire happy. But there were other good reasons for Ma to be interested in Guangzhou Evergrande.
Alibaba has plenty of money, and it will soon have a whole lot more. When its stock starts trading, analysts say, Alibaba may have a valuation of $168 billion and a float size of around $20 billion, making it the largest-ever IPO in the U.S. The company got the process started last month and is targeting August 8 for its debut, Bloomberg News reports. Eight, or ba, is a lucky number in Chinese; an IPO on August 8, Ba Ba, would not only be especially lucky, it would also echo nicely the last two syllables of the company's name.
So Ma can clearly afford to throw some change at a team. And compared to the $2 billion Steve Ballmer is paying for the Los Angeles Clippers, a billion or so yuan for China's top soccer squad is a bargain. China's soccer league has struggled over the years, tainted by corruption charges. But the Chinese love the game, and Alibaba's involvement will surely help lift the league's profile.
Indeed, investing in Evergrande now is not unlike Ma's strategy with Taobao. When he launched the consumer e-commerce site, not many Chinese purchased goods online. Few had credit cards, so paying for purchases was difficult. The country's logistics network was immature, too, so getting items delivered was a challenge. But Ma understood the potential of e-commerce in the country and was willing to be patient while he helped create the conditions for the industry to take off. Maybe he can do the same thing for soccer.