pursuits
Retailers Flood Brazil With Flatscreen TVs Before the World Cup
By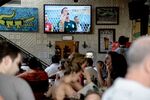 Brazilian retailers are preparing for the World Cup by stocking up on televisions.
Manufacturers shipped 3.3 million TVs to the country in the first quarter, up 57 percent from a year earlier, according to industry researcher NPD Group. This is a rare bright spot for television manufacturers, as total shipments for the quarter increased only 0.4 percent from the same period last year.
TV manufacturers and retailers see a consistent connection between big games and large TV sets. Almost a quarter of Americans who own HD televisions bought them for the specific purpose of watching the Super Bowl, according to a survey conducted last year by the Consumer Electronics Association. But people who buy televisions before a big sporting event often pay less than they would at other times of the year. Many retailers offer significant discounts leading up to the game, making January the cheapest month to buy a television.
World Cup-related sales spikes seem to happen pretty much exclusively in Latin America even if the games are played elsewhere, says Paul Gagnon of NPD. TV shipments to the region rose 30 percent in 2010, a gain he attributes to the improvement in the global economy at the time. But the World Cup, which took place in South Africa that year, played a significant role in spurring flatscreen sales in Latin America. "It kind of coalesced in 2010 for a perfect storm in Brazil," Gagnon says.
Given the relative economic weakness of the region now, the size of the sales increase this year was a mild surprise. Many of the televisions being shipped to Brazil are relatively low-cost plasma TVs that don't show HD content—even as such models seem to be on the road to obsolescence elsewhere. Revenue from sales of plasma televisions dropped almost 60 percent from 2010 to 2013, according to research firm IDC.
An important caveat to the Brazilian TV binge is that the research tracks shipments to retailers, not sales to soccer fans. The tendency to overstate the impact of major sports events extends all the way through the television supply chain.
James Flaws, the chief financial officer of Corning, which makes glass for television screens, warned investors earlier this year to temper their expectations. "The impact on television consumption is higher, but less than what investors want it to be," he said during a conference call in January. "We expect this to be a similar phenomenon for the World Cup that occurs in the middle of this year."
Gagnon says stores are buying more televisions than expected, which could be a sign retailers are overestimating how many TVs will be sold. Retail sales in Brazil dropped in March from 2013 levels, which might not bode well for those hoping to cash in on World Cup-related mania. "One thing we are going to keep an eye on is whether the products that were shipped into the region lead to higher retail sales, or whether the inventory just piles up," says Gagnon.
Before it's here, it's on the Bloomberg Terminal.
LEARN MORE