Why Dartmouth and Duke Make B-School Applicants Feel Warm and Fuzzy
By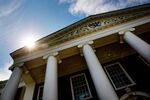 Applying to top business schools can make applicants feel like faceless batches of test scores and résumé lines, but a recent report shows some MBA programs make aspiring students feel loved. Others, not so much.
The Association of International Graduate Admissions Consultants, a professional organization, released its MBA Applicant Survey (PDF) last week, in which it asked more than 800 professionals applying to B-school about topics ranging from job hopes to salary expectations. When they asked applicants to rate how well schools got to know them during the admissions process, Dartmouth College's Tuck School of Business and Duke University's Fuqua School of Business earned the highest marks for the second straight year.
Tuck has a policy that lets any applicant interview, and has student admissions ambassadors who socialize with applicants. The college strives for a "high touch, personalized approach," Director of Admissions Dawna Clarke said in an e-mail. "Tuck differentiates our admissions process in terms of getting to know the applicants as well as we do."
Fuqua, which earned the second-highest score, asks applicants to list "25 random things about themselves" in an essay question.
The MBA program with the most applications last year—Harvard Business School—scored near the bottom. Students rated HBS only 2.47 out of 5. UCLA's Anderson School of Management's 2.43 score was lowest, and it can't blame a flood of applicants. The school received about a third as many applications last year as HBS: 3,124 in 2012, the most recent year for which Bloomberg Businessweek has data, compared with HBS's 9,315.
So what makes Tuck and Fuqua, which generated applicant volumes in roughly the same range—2,680 and 3,150, respectively—so much less frosty than Anderson? Location could be a factor. Both schools are far from major cities and make themselves more attractive by promoting the development of strong bonds between students, says Eliot Ingram, chief executive of admissions consulting company Clear Admit. "These schools have a pretty strong culture, and they care about that. They want to let in people who are consistent with that culture."
The survey revealed more about the expectations and outcomes of MBA applicants:
Men expect bigger paydays than women
MBA applicants expect their earnings potential to catapult by about 44 percent within the first six months of graduation. Male applicants make on average $86,000 a year already, and expect their paychecks to rise 43 percent to $123,000 a year. Women responding to the survey made $76,000 heading into B-school—a narrower pay gap than the 77 cents women make to a man's dollar in the wider labor market, according to the U.S. government. They expect their pay to rise by about the same percentage. That would still leave them lower-paid than men, at about $109,000 annually.
Underrepresented minorities hope the MBA will erase the pay gap
Black and Latino applicants come into business schools making $20,000 less per year than their white peers—but they expect a bigger payoff. Twenty-two percent hope to double their income or more, while only 7 percent of white applicants do. On average, black and Latino applicants expect a 39 percent earnings increase within their first six months of graduating, while white applicants expect a 34 percent increase.
Consulting dreams wash away
Roughly half of applicants who answered the survey—51 percent—hope to work in consulting when they finish their MBA. They may want to temper their expectations. Only 28 percent of recent MBA graduates at top business schools land jobs in the field, the report said.
Women less likely to eye entrepreneurship
Only about 18 percent of women plan to be self-employed or own their own companies after they finish their MBA, while 23 percent of men do. A higher proportion of women than men say they don't have any such plans, or say they don't know.