Wait, Wait, the NRA Didn't Mean to Call Rifle-Toting Members 'Weird' After All
Paul M. Barrett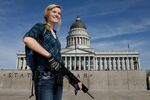 The National Rifle Association does not think that people who carry AK-47s into Starbucks are "weirdos." Is that clear now?
One might be forgiven for uncertainty over the NRA's position on taking a military-style rifle to the mall. As I reported yesterday in a dispatch titled, "NRA Scolds 'Weird' People Brandishing Guns in Coffee Shops," the gun-rights lobby seemed to have reached its limit with firearm extremists when it declared on its official blog that "it's downright weird" when Second Amendment activists strap on rifles and congregate in public venues (italics were the NRA's).
"To those who are not acquainted with the dubious practice of using public displays of firearms as a means to draw attention to oneself or one's cause," the group added, "it can be downright scary" (again, seemingly justified italics were the NRA's).
I applauded this display of conciliation from the normally off-the-charts pugnacious NRA. Sadly, I spoke too soon.
Under fire from even more absolutist pro-gun activists in Texas, the NRA's top lobbyist rushed to YouTube to apologize for the "weird" comment, which he attributed to a rogue NRA staff member. "That was a mistake," said a contrite Chris Cox, executive director of the NRA-Institute of Legislative Affairs. "It shouldn't have happened." The NRA does support "open carry" of handguns and rifles, wherever the practice is legal, Cox added.
It may be that Cox's abject reversal responded to reports that members of Open Carry Texas, a state organization, were tearing up their NRA membership cards and calling the national group's original "weird" statement "disgusting." Well, actually, that's definitely the reason for the NRA's flip-flop. All of which takes us back to this point from my last piece:
"This is an excellent example of a point I've made elsewhere: that the NRA's increasing extremism over the past decade has been driven, in part, by fear of getting outflanked by even more extreme gun-rights groups to its right. The NRA doesn't have a monopoly on a grass-roots libertarian movement that's latched onto guns as a symbol of defiance against all things cosmopolitan, non-Caucasian, and smacking of federal government authority."
So, to sum up: The NRA does not believe that obnoxious, gratuitous displays of weaponry are "dubious," "weird," or "scary." The planets are no longer spinning in reverse. But the public discourse about guns is getting, well, downright weird.
Before it's here, it's on the Bloomberg Terminal.
LEARN MORE