Ticket Prices for the Stanley Cup Final at Madison Square Garden are Crazy
by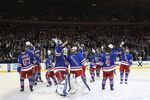 The National Hockey League's Stanley Cup Final begins tonight at the Staples Center in Los Angeles. The match-up is a dream for the NHL: the Los Angeles Kings vs. the New York Rangers, the second-largest TV market in the country vs. the largest. For the Rangers, it's a chance to steal some attention from Madison Square Garden's other tenant, the Knicks. Games three, four, and potentially six will happen at the Garden, and they are fast becoming some of the most expensive tickets in New York's history.

Game six seats, according to ticket search engine SeatGeek, are already selling for an average of $2,296. For the same price, you could bring two friends to tonight's game in Los Angeles (at $644 each) and have $364 left over for drinks. Some seats for tonight at Staples are actually going for less than face value. Upper level "cheap" seats released by the Kings today for $349 each can be found for $322 online. Likewise, corner seats in the lower bowl, set at $629, can be found for $550.
You can't get in the door for any Garden game for much less than $1,000. Tickets for game three start at $986; game four, $1,069; and game six, $1,686. SeatGeek spokesman Will Flaherty says the demand for the three games is an intense as anything the company has seen in the New York area since it began tracking prices in 2009. The only event since then with a higher average price was February's Super Bowl, at $2,536. And if the Rangers do make it to game six, Flaherty says, prices will probably surpass that.
The Rangers apparently have some of the most passionate, wealthiest fans in sports. New Yorkers with lesser means may want to turn to the Islanders: Season tickets in the mezzanine for the team's final run at Nassau Veterans Memorial Coliseum before it moves to Brooklyn can be had for $1,134—less than any seat at the Garden for game six.
Before it's here, it's on the Bloomberg Terminal.
LEARN MORE