San Francisco's Love-Hate Relationship With Affordable Housing
By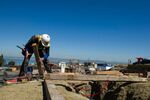 Two days ago, San Francisco Mayor Ed Lee trumpeted the $50 million for affordable housing he added to his budget proposal, calling the current housing shortage "a genuine crisis." Yesterday voters went to the ballot box and handily approved a measure to make it much harder to build along 7.5 miles of the city's waterfront, a move that Vox's Matthew Yglesias bluntly summarized as: "San Francisco just voted to make housing less affordable."
San Francisco is the country's least-affordable housing market for both purchases and rentals, according to the Public Policy Institute of California (pdf). The region is rife with angst that housing costs are making it impossible for many to get by. Earlier this year, not a single home for sale in San Francisco was affordable on an average teacher salary, because of both declining teacher pay and rising home prices.
One way to keep rising prices in check is to create more supply. In 2013, San Francisco built 85 percent more units than it typically does, but it still lags behind the national average, according to an analysis of construction permits by the real estate website Trulia. In his January State of the City address, the mayor announced the goal of building or restoring 30,000 housing units by 2020, saying a third of them should be affordable for low- and middle-income families. He fortified this plan with the additional $50 million in the proposed budget.
But when you look at the projects he has promoted as major developments already in the works, such as the Hunters Point Ship Yard/Candlestick Park, you'll see several are by the water. That's where yesterday's election comes in. Environmentalists and local residents have been up in arms about the possibility that the city's gorgeous views will be kept for a wealthy few, something they've termed "the wall on the waterfront." They got enough votes to sweep in Prob B, which would require developers of oceanfront projects who want to build higher than current height limits to get voter approval. The Chronicle says the height limits "were set through a years-long public planning process" and range from "40 to 80 feet but can be as low as zero and as high as 105 feet." Which is, to say, no more than about 10 stories tall.
The city is surrounded by water on three sides, so capping construction on the waterfront, which includes some of the largest underdeveloped areas of the city, means rare new land is taken out of play. Some of that would surely go to high-end luxury towers hard to shed a tear for, but other areas could be more like the already-approved Hunters Point project, a two-decade project that includes thousands of affordable units. Now voters will have to approve new waterfront developments— even those not catering to the wealthy—one project at a time.
Before it's here, it's on the Bloomberg Terminal.
LEARN MORE