pursuits
Nostalgia Air: People Express Brings 1980s Style to Smaller Markets
By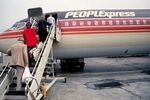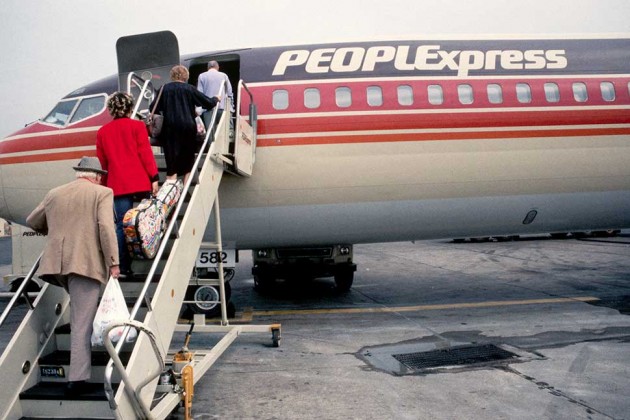 Few airlines were a better fit for the 1980s than People Express, the high-flying upstart with cheery customer service and ardent fans at a time when Southwest Airlines was still just a baby. Some veterans of the old airline believe passengers with fond memories of traveling in the era will return to the relaunched People Express, which plans to start selling tickets Wednesday for debut flights on June 30. Introductory fares start at $76.
The original airline "really was embraced by their travelers because they not only did low fares, but they did low fares with excellent customer service and really developed a passion for—and respect and caring for—their travelers," says People Express Chief Executive Officer Jeffrey Erickson, an industry veteran who founded Reno Air in 1990 and later served as chief executive of TWA. "And we would like to do the same thing 25 years later."

The revived airline brands itself PEOPLExpress on its planes and has its headquarters in Newport News, Va., between Richmond and Norfolk. It initially will serve Newark, home of the original airline, with two daily flights on leased Boeing 737-400s with 150 seats, a dozen of which are first-class. That's six more seats than you'll find on US Airways, the last U.S. carrier to fly that model. A daily round trip will also go to Boston and Pittsburgh.
Over the summer, People Express will add flights to West Palm Beach, Fla., Atlanta, St. Petersburg, Fla., and New Orleans. The older, gas-guzzling planes are one of the airline's biggest initial financial threats, and Erickson says People Express will move into newer 737-700s and 800s "as soon as possible."
The call to nostalgia is strong in the airline industry. A Miami-based group led by long-time airline executive Edward Wegel is working to resurrect the Eastern Airlines brand. Last month, the company ordered 10 new 737-800s and took options for 10 of Boeing's next-generation 737 MAX jets. The former Braniff International brand was also resurrected briefly back in the 1980s, as was Pan American.
Name recognition means only so much, given that it has been more than two decades since People Express and Eastern last operated, says Henry Harteveldt, a travel analyst with Atmosphere Research Group. "Each airline's success depends more on its management, financing, and relevancy of business strategies, route networks, and value propositions than their names."

Three employees from the original People Express have joined the new venture, including Michael Morisi, one of the co-founders. The brand was ultimately sold to Continental in 1987.
Before joining People Express as chief executive, Erickson had led cargo carrier Atlas Air Worldwide Holdings through its bankruptcy and retired to Arizona six years ago. He worked occasionally as a consultant. "The most fun I ever had in the industry was being the founding CEO of Reno Air and the opportunity to do that again with this concept was of great interest to me," Erickson says. American acquired Reno Air in 1998 as a way to bulk up its lean presence on the West Coast.

Every airline startup draws an enormous number of skeptics, given the moribund track record. But Erickson says the business plan is solid, due to the under-served markets industry consolidation has produced. Traffic at Newport News collapsed after Southwest purchased AirTran Airways and quit the airport in favor of nearby Norfolk and Richmond. "Newport News for 15 years had an established pattern of traffic created largely by AirTran, which suddenly disappeared two years ago," he says. "There's proven traffic to many of the markets we're proposing to serve."
That's the niche market People Express is targeting: Cities whose former air service has disappeared, for whatever reason—airline consolidation, demographics. "We're looking to grow under-served markets that have had a previous history of good traffic," Erickson says.
The idea is that enough people in a particular market would be flying if the major airlines were not more interested in higher-profit routes. That's partly why Allegiant Travel has enjoyed success with its model: a few flights each week to small burgs that have little or no other airline service.

If the model works, People Express would probably look to expand in Pittsburgh, New Orleans, and San Antonio, large cities where current air service does not reflect the size of the market, Erickson says. San Antonio, for example, is the nation's seventh-largest city—bigger than Dallas—but enjoys only a fraction as many flights.
There will be modern-style fees for checked bags ($20), assigned seats ($15), exit rows ($25) and even coffee ($1). These add-ons aren't so innovative: The original People charged bag fees back in the 1980s; the revived venture expects today's travelers not to mind paying, as long as service is solid. "The real differentiation here is the customer experience," Erickson says. "But we have to get them on the plane first."

Before it's here, it's on the Bloomberg Terminal.
LEARN MORE