Music Man Pettis Sees China Economy at 4% Growth or Bust
Simon Kennedy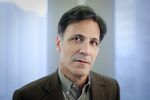 If Michael Pettis is a better economist than he is an impresario, you'll want to bet on a slowing economy in China.
Pettis, a professor of finance at Peking University who says he loses money on a Chinese record label he co-founded, sees the country's expansion failing to sustain the 7.5 percent forecast this year by the International Monetary Fund.
Growth of 3 percent to 4 percent is eventually more likely if China is to pivot from increasingly misallocated investment toward consumer consumption, says Pettis, who has taught there since 2002, having previously worked on Wall Street as a Latin America expert. That's better than what his alternative scenario: A credit crisis and contraction if debt can't be brought under control.
"China has a choice," he said in a lecture this week at the London School of Economics. "It can start rebalancing, in which case growth will slow. Or it can choose not to and then it will run into supply constraints and a debt crisis. It's obvious what needs to happen."
The combined ratio of government, corporate and household debt to gross domestic product is set to reach 236.5 percent next year, according to the median estimate of economists in a March survey by Bloomberg News. Most respondents didn't see it peaking before 2018 or 2019.
There are signs that President Xi Jinping is willing to accept weaker growth as the price for a healthier economy, unlike in previous slowdowns which were swiftly reversed as policy makers grew nervous and injected stimulus, said Pettis.
Reversing Incentives
Interest rates, the yuan and wages have been allowed to rise, reversing incentives for capital spending over consumption. Other changes Pettis recommends include liberalizing land rights, residency requirements and the banking sector.
The political challenge for Xi may be two-fold. As Argentina, Brazil and even 1920s America discovered, it's hard to surrender a strategy that generated booms. Also it's the ruling class "elite" that has benefited most and so is likely to resist a reversal of fortune.
In Pettis's eyes, China's economy faces much more rock and roll.
Before it's here, it's on the Bloomberg Terminal.
LEARN MORE