Mori Sees 1 Trillion Yen of Tokyo Developments Pre-2020 Games
Kathleen Chu and Katsuyo Kuwako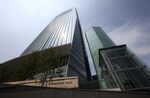 Mori Building Co., Japan's biggest closely held developer, plans projects in central Tokyo worth an estimated 1 trillion yen ($9.7 billion) with partners as the city prepares for the Olympic Games in 2020.
Mori, which is opening Tokyo's second-tallest building next week, plans to develop about 10 projects over the next decade in Minato ward, Shingo Tsuji, president and chief executive officer of the developer, said at a press conference in Tokyo today.
Japanese developers are boosting investments in the lead up to the Tokyo Olympics in six years, as vacancy rates decline and rents climb, and as they bet on a strategic zoning plan announced in March as part of the government's plan to stimulate economic growth. Mori's announcement follows the biggest share sale plan in 32 years by Mitsui Fudosan Co., the nation's biggest publicly traded developer, last week.
"Toranomon area has great potential," said Tsuji. "We would like to speed up the revitalization of the area."
The government has designated strategic zones, including the region around Tokyo, that will offer lower corporate taxes and looser building restrictions to lure investment, according to a proposal announced March 28.
Toranomon Hills
The 52-story Toranomon Hills, which will open on June 11, is Mori's biggest project since the developer's $2.2 billion Roppongi Hills in downtown Tokyo in 2003.
The building in Toranomon consists of office, residential and retail space over 244,360 square meters (2.6 million square feet), according to Mori. The 247-meter (810-feet) tower, near the U.S. embassy compound and government buildings, including the Congress, will be the tallest after Mitsui Fudosan's Tokyo Midtown, according to Mori.
The new building's completion coincides with Prime Minister Shinzo Abe's efforts to revive the world's third-largest economy.
The occupancy at Toranomon Hills is "almost completely full," Tsuji said. Tenants of the skyscraper, whose floors are in a quadrilateral shape, include Andaz Hotel under Hyatt Hotels Corp.; Asatsu-DK Inc., Japan's third-largest advertising company, and Nishimatsu Construction Co., according to Mori Building.
Falling Vacancies
Tokyo's office vacancy rate fell to 6.6 percent in April from 8.5 percent a year earlier and is at the lowest since March 2009, according to Miki Shoji, a closely held office brokerage company. Average office rents gained for the fourth straight month in April, the longest run of increases since the period to June 2008, it said.
Toranomon, which means tiger's gate in Japanese, was named after an old gate that once guarded the neighborhood, housing samurai houses during the Edo period from 1603 to 1867, according to Mori Building's website. The area is now vying with the city's main business districts of Otemachi and Marunouchi.
Before the World War II, the streets were filled with restaurants where geishas played shamisen, a three-string musical instrument, and sang to their clients, Mori Building said on its website, citing Masafumi Aoki, a resident who has lived in the area since the 1930s.
The new complex looms over Loop Road No. 2 that connects central Tokyo to the bay area where one of the two competition zones will be located for the 2020 Olympic Games.
Abeno Harukas in Osaka is Japan's tallest building at 300 meters, according to the Chicago-based Council on Tall Buildings and Urban Habitat.
Before it's here, it's on the Bloomberg Terminal.
LEARN MORE