Seeking a Less Crowded Field, MBAs Find Success in Manufacturing
By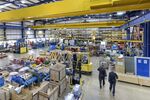 If newly-minted MBAs want a good shot at quick employment and salary jumps, they may want to turn their aspirations toward factory floors and away from trading floors.
A survey of more than 3,000 graduate business students around the world, released Wednesday by the Graduate Management Admission Council, shows that grads seeking jobs in the manufacturing and healthcare industries were most likely to get early offers this spring. While the healthcare business boom is well-documented, the growing demand for manufacturing business leaders paints more of a comeback story that MBAs are just starting to see.
Only a few MBAs were looking for work in manufacturing and healthcare, but those that did were more likely to secure jobs early in the academic year. In both industries, 74 percent of graduates seeking jobs got them, whereas only 57 percent of finance and accounting majors got jobs in those fields.
Students entering manufacturing were also more likely to have switched into the industry than have prior experience there, according to the report, showing the field's growing reach in business schools.
The small slice of MBAs looking for work in the manufacturing industry (7 percent) will jump into a field that's gone overlooked in recent years and mired in misconceptions, says Karen Dowd, assistant dean of career management and corporate engagement at Rochester's Simon Business School.
"During manufacturing companies' declines, consulting firms and investment banks led the way in treating students like star athletes," says Dowd. "When students learn the story from the manufacturing companies that they're changed and are more high-tech now, [companies] can challenge more consulting firms and I-banks in terms of interesting work and perks."
Rochester saw a 3 percentage point increase in the number of students entering manufacturing jobs last years. Manufacturing companies are recruiting more MBAs, she says, as they look to hire more data mining whizzes. Another report released last month by GMAC showed that 87 percent of manufacturing companies expect to hire MBAs this year, more than any sector besides healthcare.
Landing manufacturing management jobs can also pay off with bigger salary increases, with graduates entering the field expecting a 91 percent median increase in salary, according to the report – third most among sectors. Those jobs also come with shorter work days than grueling finance jobs, Dowd says.
The work has also gotten more interesting. MBAs who grab jobs as manufacturing decision makers now get to weigh whether to bring jobs back from overseas and how to capitalize on lower energy costs, says Scott N. Paul, president of the trade group the Alliance for American Manufacturing. That helps make the industry more alluring, especially after the sector lost 3 million jobs over a decade ago and is only now seeing steady growth.
"The trend in manufacturing from 1998 to 2009 had been almost exclusively downsizing," Paul says. "Manufacturing has got to be a lot more exciting than 10 years ago."
Manufacturing companies still aren't luring most MBAs away from industries like finance or consulting. At Vanderbilt's Owen Graduate School of Management, only one percent of 2013 graduates went into manufacturing.
Graduates have too many other options to give manufacturing companies a shot, says Read McNamara, managing director of Owen's career management center, between "crazy valuations of IPOs of tech companies, and a very robust MBA market."
Most MBAs are finding jobs. About 57 percent of MBA graduates in the United States received early job offers this year, down slightly from 60 percent last year but up from just 33 percent four years ago, according to the report. The survey was conducted during February and March, so MBAs' employment chances improve deeper into the hiring season, too.
Business schools should do a better job of teaching MBA students that they have options in fields they might not have thought of, says Simon's Dowd. But manufacturing companies will only become a top attraction for MBA candidates once word-of-mouth spreads.
"It's uphill for [manufacturing companies]. What would help them is two to three years of positive progress at different schools," she says. Manufacturing will look sexier to students when alumni are "the ones saying, 'I did the summer with the consulting firm, then I got a full-time offer from a manufacturing company. Here's why I'm happy.'"
Before it's here, it's on the Bloomberg Terminal.
LEARN MORE