Mario Draghi Needs to Be Super Again to Prevent Deflation
By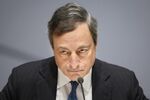 Mario Draghi has already been super once. The president of the European Central Bank staved off disaster in July 2012 when he convincingly pledged that the central bank would do "whatever it takes" to preserve the euro currency. The promise reassured investors and helped lower interest rates in such embattled countries as Greece, Portugal, and Spain.
Draghi now needs to be super again–this time to stave off the threat of deflation in the euro zone. A shortfall of demand that causes prices to fall is an existential threat to the European Union: The success of right-wing parties in European Parliament elections was fueled by the public's disgust with years of slow growth and high unemployment. "The monetary policymakers in Europe are the saviors of the European Union. Whether they succeed or fail will largely determine whether the European Union holds together," says Scott Minerd, who oversees nearly $200 billion as global chief investment officer of Guggenheim Partners in Santa Monica, Calif.
The Governing Council of the European Central Bank will meet on Thursday in Frankfurt as evidence builds that the euro zone economy is at risk of getting stuck in a deep rut. The latest warning sign: On Tuesday, Eurostat announced that consumer prices fell 0.1 percent in May from April and were up just 0.5 percent from a year earlier. That's way below the ECB's target of under—but close to—2 percent.
This chart shows that consumer prices in the euro zone fell briefly in 2009 as a result of the global financial crisis, then resumed rising. The inflation rate actually exceeded the ECB's 2 percent target in 2011 and 2012. But it has fallen steadily since the beginning of 2013. Falling prices are a symptom that demand for goods and services is seriously weak. When prices fall, wages do, too. That makes it harder for people to pay back their debts, which don't shrink. The risk is a wave of bankruptcies.

At its Thursday meeting the ECB is likely to cut its main lending rate, and it may impose a negative rate on deposits, which means that banks would be charged for stashing funds at the central bank. Some ECB watchers say the bank might also provide funds to banks that agree to lend the money in a program resembling Britain's successful Funding for Lending plan. The ECB is unlikely to announce an American-style "quantitative easing," in which it buys government bonds to bring down long-term interest rates. But it could achieve the same effect by lending to banks, which in turn buy their countries' bonds, says Guggenheim's Minerd.
Being superhuman will be harder this time because there is no single bold stroke available to the ECB that would be nearly as dramatic as Draghi's 2012 "whatever it takes" speech. Says Minerd: "I don't think there's much that policymakers can do except throw enough liquidity at the economy to make sure it doesn't go back into recession. I think they have a foundation for a sustained recovery over the next few years. But it's going to be slow."
Draghi, as a central banker, is powerless to deal with such European problems as an aging population and inflexible labor markets, says Brian Levitt, a senior economist at Oppenheimer Funds. "Monetary policy alone really can't change the facts on the ground in Europe," Levitt says. "I wouldn't view this as the silver bullet."
Before it's here, it's on the Bloomberg Terminal.
LEARN MORE