Higher Coffee Prices Kick in at the Supermarket
By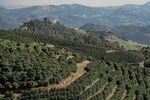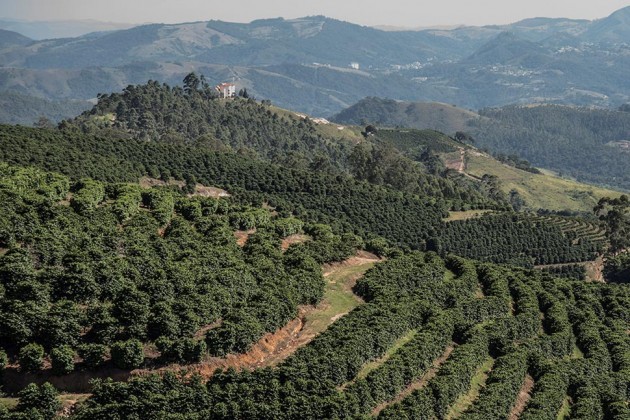 The moment to hoard cheap coffee beans has passed. The price of coffee futures peaked in April, and those higher commodity costs are now trickling down to grocery stores. J.M. Smucker on Tuesday announced that it has increased the price of its packaged coffee, including the country's best-selling brand, Folgers, as well as packaged Dunkin' Donuts beans, by an average 9 percent.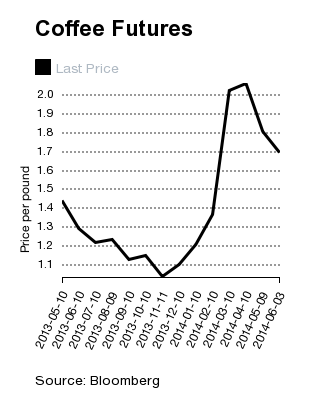 The increase will reach millions of coffee drinkers, although for now the company's K-Cup prices will not be affected. Folgers represents about 14 percent of unit coffee sales in the U.S., according to data from Chicago-based research firm IRI.
Coffee prices spiked after drought hit the crop in Brazil, the world's largest grower, even though rains have recently eased some of the damage. High-end blends also might be affected by a fungus that is spreading through small farms in Costa Rica, Guatemala, Honduras, El Salvador, and other Latin American countries.
Changes in the futures market don't tend to show up in retail prices for months. In February, after Arabica futures rallied by more than 20 percent to start the year, J.M. Smucker Chief Operating Officer Vincent Byrd told analysts on an earnings call that the company felt "confident in our ability to adjust pricing when warranted." It took another three months for those higher prices to arrive.
Don't be surprised if other grocery brands follow. When futures jumped as much as 61 percent over a six-month period ended in March 2011, Smucker increased prices by 11 percent, and Kraft raised the U.S. price of Maxwell House and Yuban coffees by as much as 22 percent. Retail prices fell when futures prices went down again.
Since reaching a high of $2.12 per pound in April, coffee futures prices have cooled somewhat—so there's hope yet that retail prices will fall again, in time.
Before it's here, it's on the Bloomberg Terminal.
LEARN MORE