Google Needs a Fashion Legend to Make Glass Look Good
by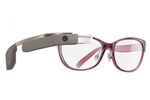 The signature look of yesterday's bespectacled dorks—think Steve Urkel or the heroes in Revenge of the Nerds—has long since passed into mainstream fashion. Have you seen those thick frames on LeBron James? But in Google's eyes, through Glass, the 21st century nerd has a computer strapped right to his face, and no one has quite figured out how to make that look good.
Realizing the need to smooth out the geek vibe with some chic veneer, Google this week moved to join forces with sexy-wrap-dress maven Diane von Furstenberg and inject some style into Google Glass. The collaboration will yield a limited-edition collection of glasses and shades for $1,725 and $1,620, respectively, available on June 23 on Net-A-Porter and at Google's website. The price for the more fashionable frames is a slight premium over the regular sticker price of $1,500 for Google Glass.
It's no small thing to have DVF on your side, and the fashion house has already featured Google Glass in its Spring 2013 runway show. The additional problem for Google, aside from the unmatched power of Glass to make even NBA stars look dweeby, is the company's void in the realm of fashion or style. Most consumers know Google as a free search engine or e-mail service—a poor foundation to push a high-priced accessory to be worn on your head.

"We're thrilled to collaborate with DVF once more to further transform eyeglasses—the oldest wearable technology in human history—into something modern and fashionable," Isabelle Olsson, lead designer for Glass, said in a release.
Google appears to be keeping trendy glasses retailer Warby Parker out of the action—a decision that makes sense, given the frugal style for which Warby Parker is known. Instead, Google is working on bringing Glass into other luxury brands through its alliance with Luxottica, which makes glasses with such labels as Burberry, Bulgari, Chanel, DKNY, Prada, Ralph Lauren, Ray-Ban, and Oakley. These labels could prove be helpful to selling Google Glass early on: Nothing gives a consumer fashion confidence as much as a luxury designer's stamp of approval.
Before it's here, it's on the Bloomberg Terminal.
LEARN MORE