Florian Homm, Free Again, Is Back in Germany
By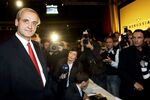 Florian Homm, the fugitive financier captured last March in Florence's Uffizi Gallery, is free again. Italian officials released Homm from a Pisa jail Tuesday night, saying the statutory limit for keeping him locked up without trial has expired.
In January, Italy's highest court approved Homm's extradition to the U.S., where the 6-foot, 7-inch cigar-chomping German stands accused of investor fraud that resulted in $200 million in losses. The ordered extradition was delayed after Homm's lawyers filed an appeal with an Italian regional court and the European Court of Human Rights on grounds that Homm—who is ill—would risk life imprisonment in America, according to Reuters.
Homm, a Harvard Business School graduate and former chief investment officer of the Cayman Islands-based Absolute Capital Management Holdings, gained worldwide notoriety after fleeing his Mallorca home in 2007 and publishing an autobiography while on the lam titled, The Rogue Financier: Adventures of an Estranged Capitalist. In it, he brazenly recounts boarding a private plane with $500,000 stashed in his Calvin Klein underwear, only to disappear for five years.
After his release late Tuesday, Homm immediately left Italy for Germany, according to Süddeutsche Zeitung. Now that he's back on home turf, extradition to the U.S. seems unlikely. According to the newspaper: "German authorities rarely surrender their own citizens to other countries."
Before it's here, it's on the Bloomberg Terminal.
LEARN MORE