It Won't Be So Easy for Establishment Republicans to Marginalize the Tea Party
By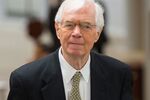 Over the last few weeks, there's been a lot of clucking from establishment Republicans that they've gained the upper hand in their fight with the Tea Party for control of the GOP. Last night's Mississippi primary between six-term incumbent and pillar-of-the-establishment Senator Thad Cochran and Tea Party upstart Chris McDaniel shows that that isn't true. With more than 97 percent of the results in, McDaniel is leading 49.6 percent to 48.8 percent—and because neither candidate is likely to break 50 percent, the race looks to be headed to a June 24 runoff.
The early consensus is that Cochran is probably toast, because McDaniel's Tea Party supporters are thought to be more intensely invested in the race and also because Cochran is 76, a bit off his game (as the Atlantic's Molly Ball discovered firsthand yesterday), and has stated openly that he wanted to retire. Outside Tea Party groups have also poured $5.2 million into the race on McDaniel's behalf and are sure to pony up more, now that their candidate is poised to knock off a prominent and much-loathed member of the establishment.
On the other hand, McDaniel failed to win cleanly, in part because of his association with a blogger arrested for allegedly breaking into a nursing home to film Cochran's wife, who has long suffered from dementia. Given the volatility of his less-than-professional outfit, there's always a chance McDaniel could implode—if not before June 24, then (Democrats hope) by November, when he'll face a credible Democratic opponent in former representative Travis Childers.
About all that's clear after last night's primary battle is that the establishment-vs.-Tea Party battle is far from over. Right now, it looks likely to drag on much longer, at a steep cost to both sides—and ultimately, to the Republican Party.
Before it's here, it's on the Bloomberg Terminal.
LEARN MORE