China's State Planner Fines Contacts Lens Makers, Fights Terrorism
by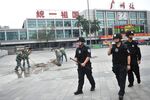 With reports of its demise apparently much exaggerated, China's still-powerful state planning agency, the National Development and Reform Commission, has been all over the news of late.
Last week, once again, it was punishing naughty foreign companies for anticompetitive behavior—this time, glasses and contact lens makers, including U.S. companies Johnson & Johnson and Bausch & Lomb, as well as Japan's Nikon, and French and German companies Essilor International and Carl Zeiss Meditec.
The companies together were fined more than 19 million yuan ($3.04 million) for fixing prices. Two other companies escaped punishment because they "voluntarily reported monopolistic practices and rectified the issue," according to a May 29 statement on the NDRC website.
The penalized companies mandated that dealers strictly follow their "suggested" prices, the commission statement said. The eye-care companies also ordered retailers to launch promotions jointly in Chinese cities to keep prices stable, the notice said, which the China Daily reported on May 30.
"Dealers and retailers who do not comply with the order will be subject to unspecified financial penalties, the NDRC said. Other penalties may include seeing a halt to their supplies from the overseas manufacturers," reported the China Daily.
This latest action follows the record 669 million yuan in fines levied last August by the commission on six infant-formula makers, including Mead Johnson Nutrition, Danone, and Abbott Laboratories, for antimonopolistic practices. Pharmaceutical companies, too, have faced the wrath of the NDRC and other Chinese authorities, with GlaxoSmithKline executives accused of corruption.
And as Beijing gears up for what it says is a fight against jihad terrorism, the planning commission is joining the effort. Following the two-day central work conference on Xinjiang last week, the NDRC announced it will direct investment into the far northwestern Uighur region, supporting employment, education, and poverty reduction, in an effort to ensure social stability better.
The commission announced it will also speed up construction of transportation, water conservation, and agricultural infrastructure projects. "The National Development and Reform Commission (NDRC) will focus on promoting economic and social development and improving living standards in southern Xinjiang, which has difficult geography and lower living standards," Xinhua explained.
On May 31, China reported that police had carried out a major bust earlier in the month in southern Xinjiang's Hotan, Kashgar, and Aksu prefectures, which shut down "at least 24 terror and religious extremist groups and netted more than 200 suspects, seized more than 200 explosive devices and 1.8 tonnes of materials for explosive devices."
Before it's here, it's on the Bloomberg Terminal.
LEARN MORE