World Cup Is No Boon to Bond Market as Qatar Sales Slump
Robert Tuttle and Stephen Morris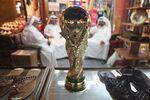 Qatar's bond market is off to its worst start in three years even as the country ramps up $200 billion of spending to host soccer's 2022 World Cup.
Qatar National Bank QSC's $437 million in bond sales in January and February are the only corporate issues this year, putting the market on course for its slowest first half since 2011, data compiled by Bloomberg show. Instead companies such as telecom provider Ooredoo QSC and developer Ezdan Holding Group are taking loans as banks flush with cash cut rates to the lowest level in at least eight years, the data show.
While falling loan costs are offering a better deal for borrowers, they threaten to undermine government efforts to develop the domestic bond market as the country embarks on building stadiums, railways and roads to prepare for the 2022 soccer championship. The central bank began selling local-currency bonds last year as a first step to creating a tradable market for debt.
Banks are "eager to lend" at a lower rate than bondholders, Jaap Meijer, the head of equity research at Arqaam Capital in Dubai, said in an e-mail June 1. "We expect the path to a growing debt capital market to be slow."
Qatar's bond sales are dwarfed by $6 billion in the United Arab Emirates and $5.4 billion in Saudi Arabia this year, according to data compiled by Bloomberg.
Loans Double
Corporate loans in Qatar more than doubled to $4.6 billion from the year-earlier period, the data show. At the same time, local banks' net interest margins, which reflect the profitability of lending, fell to 3.1 percent in the first quarter, the lowest in the period since at least 2006, according to data compiled by Bloomberg.
Banks are boosting lending after deposits grew 28 percent in the first quarter from a year earlier, the data show.
Competition among local banks is driving down the margins as "deposit growth has outpaced demand for loans," Akber Khan, director of asset management at Al Rayan Investment in Doha, said by phone yesterday.
Bond issuance may pick up next year when new rules will require banks to increase their liquidity ratios, Arqaam Capital's Meijer said. "We expect the banks to address the liquidity by issuing wholesale debt to diversify their funding and allocate more to tradeable securities, such as corporate bonds," he said.
Big Pipeline
For now, loans are cheap. Commercial Bank of Qatar QSC in February said it obtained a two-part loan of $1 billion, paying as much as 120 basis points, or 1.2 percentage points, above the London Interbank Offered Rate. The lender would have paid more than 2 percentage points above Libor 18 months ago, said Simon Meldrum, a London-based director of Central and Eastern Europe, Middle East and Africa loan syndication at Royal Bank of Scotland Group Plc.
Qatar, holder of the world's third-largest natural-gas reserves, plans stadiums equipped with solar-powered air conditioning and a $35 billion rail and metro network to host the most-watched global sporting event. Qatari stocks fell the most in the world today and bonds fell on concern the nation may lose the right to stage the tournament after a panel said it will issue a report next month into the possibility of corruption in the bidding process.
The yield on Qatar's 5.25 percent bond due January 2020 rose four basis points, the most since March, to 2.41 percent at 5:14 p.m. in Doha.
"There is a big infrastructure pipeline in Qatar -- some related to the World Cup and other large-scale projects," Meldrum said by phone yesterday. "From three to four years ago, banks are much more liquid and willing to lend."
Before it's here, it's on the Bloomberg Terminal.
LEARN MORE