pursuits
The Odds of a World Cup in Qatar in 2022 Are Falling
By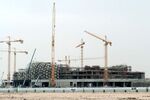 London's Sunday Times reported this past weekend on what it called the "Plot to buy the World Cup." The story (behind a paywall) details what many already suspected: that FIFA officials who awarded the 2022 World Cup to Qatar had been bribed. The paper's accusations are based, it says, on millions of documents and e-mails that came from a senior FIFA official. They allegedly show how former FIFA Vice President Mohamed bin Hammam of Qatar doled out $5 million in cash and gifts to soccer officials to secure their support.
The news has thrown Qatar's already shaky status as host into doubt. William Hill, the largest betting house in the United Kingdom, is now offering even money bets for Qatar to keep the World Cup, and 8-to-11 odds for the emirate to lose it. (A £10 ($16.80) wager on Qatar to keep the event would pay back that £10, plus £10 in winnings; a £10 wager on Qatar losing out would pay back £10, plus £7.30 in winnings.) This is a shift from Sunday, when William Hill was offering 13-to-8 odds that FIFA would move the 2022 World Cup.
Joe Crilly, a press officer for William Hill, says the house didn't wait for bettors to respond to Sunday's news. "Even if we don't see any money coming in after a big story like that," he says, "it's always going to play a major part in cutting the price." Just before the winning bid was announced in December 2010, William Hill had Qatar as the 4-to-6 favorite. That announcement would normally close the betting market, but William Hill reopened it in December after whispers about problems dealing with extreme heat began to get louder.
"The talk at the time was the climate, the conditions," says Crilly. "Any logical sports fan knows that it is going to be virtually impossible for the players to play in that stifling heat out in the desert." In December, William Hill set the odds of a move at 6-to-1. There wasn't much action, says Crilly. In mid-February, after further weather grumbles, the house tried again at 4-to-1. Confidence in Qatar, in other words, is falling. A "semi-independent" inquiry into the bidding process is expected to make its recommendations soon. Pressure is mounting for a revote.
Qatar's loss, in this case, could the United States' gain. William Hill now has the U.S. as the leading alternative for 2022 (at 2-to-1), followed by Japan (6-to-1), South Korea (7-to-1), Australia (10-to-1), and England (12-to-1).
Before it's here, it's on the Bloomberg Terminal.
LEARN MORE