Sterling's Billions Bonanza Puts NBA Value Growth in Crosshairs
Scott Soshnick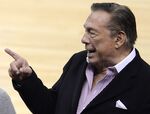 Donald Sterling's $2 billion payday from the sale of the Los Angeles Clippers is good and bad news for National Basketball Association owners, who won't be permitted by players to ignore escalating franchise values in the next round of labor talks.
"They can't hide from the franchise values anymore," said Charlie Grantham, who served as executive director of the NBA Players' Association from 1988-95.
Sterling bought the Clippers in 1981 for about $12.5 million. His wife and co-owner, Shelly, has agreed to sell the franchise to former Microsoft Corp. Chief Executive Officer Steve Ballmer for the second-most ever paid for a franchise in a U.S.-based sports league behind baseball's Los Angeles Dodgers. The NBA, which must still approve the Clippers sale, generates about $5.5 billion in annual revenue.
Previously, the most paid for an NBA team was $550 million for the Milwaukee Bucks, who were sold earlier this year to Avenue Capital's Marc Lasry and Fortress Investment Group co-founder Wes Edens.
"I would hope that all players took notice of the franchise value of the Clippers and Bucks," said Jerome Williams, a retired player and former member of the union's executive committee.
Players took notice of the record-setting profit made by Sterling, who was banned for life from the NBA after being recorded by a female friend saying that he didn't want her associating with minorities or bringing them to games.
'Crazy' Negotiations
When Ballmer's purchase price was made public, Denver Nuggets guard Ty Lawson wrote on his Twitter page: "2 billion for the clippers??? Hmm I thought the owners were losing money??? The next collective bargaining agreement is gonna be crazy."
Andrew Bogut of the Golden State Warriors also took to Twitter, writing: "12.5 mill to 2 bill in 33 years. #foolmeonce #losingmoney #lockout."
"How much Donald Sterling was able to gain from a 12.5 million investment -- that should inform a lot of players as to the true value of the so-called partnership they have with NBA owners," Williams said.
NBA spokesman Mike Bass declined to comment.
Chuck Baker, who heads sports mergers and acquisitions as a partner in DLA Piper's Global Sports, Media and Entertainment practice, said it's the owners taking all the risk.
"While I sympathize with the players' concerns given escalating franchise values, ultimately it's the owners that need to invest the capital -- including funding losses in some cases -- before recognizing any return on their investment," Baker said.
Off Limits
The next round of negotiations might start in two years. Owners and players have mutual options to terminate the 10-year contract that was signed in 2011 by serving written notice by Dec. 15, 2016.
Players in the most recent talks agreed to receive 50 percent of what's called basketball-related income, down from 57 percent.
Whenever players broached the subject of franchise values during negotiations the owners refused to discuss it, said Ron Klempner, acting executive director of the union, adding that management's stance probably won't change next time.
"They'll exclude it," Klempner said. "Their focus will be on profitability and not on asset value."
During the last round of talks, Kevin Murphy, a University of Chicago economist working on behalf of the union, gave a PowerPoint presentation that showed franchise values grew even during the recession, Klempner said.
When, after the Clippers sale, it was pointed out to Murphy that it might be difficult for owners to ignore franchise value growth, the George J. Stigler Distinguished Service Professor of Economics said via e-mail, "My thoughts exactly."
Mirror NFL
Grantham said NBA owners are gradually shaping their labor contract to more closely mirror that of the National Football League, which has about $10 billion in annual revenue. The NFL's contract, unlike the NBA and Major League Baseball, allows for non-guaranteed player contracts. That allows owners to more easily discard underperforming players and minimize risk.
"What's left on the table is the guaranteed contract," Grantham said, adding that players must find a way to sustain a lockout to maintain bargaining power. "The owners will say, 'Can we go for the whole enchilada because we can't come back and say we're poor or that values are declining.'"
Before it's here, it's on the Bloomberg Terminal.
LEARN MORE