Rajan Signals Easing If India Inflation Slows While Holding Rate
Kartik Goyal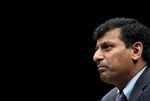 India's central bank signaled it would ease monetary policy if inflation slows faster than anticipated as it left interest rates unchanged for a second straight meeting. Stocks rose to a record high.
Governor Raghuram Rajan kept the benchmark repurchase rate at 8 percent, the Reserve Bank of India said in a statement in Mumbai today, as predicted by all 38 analysts in a Bloomberg News survey. He has raised the rate by 75 basis points since taking office in September to fight Asia's fastest price gains.
The RBI said further policy tightening won't be warranted if consumer-price inflation stays on course to hit 8 percent in January 2015 and 6 percent a year later. If disinflation is faster than anticipated "it will provide headroom for an easing of the policy stance," it said.
Prime Minister Narendra Modi's landslide win last month is spurring optimism that he'll take steps to reduce price pressures and lead a recovery among the world's biggest emerging markets, which are forecast to grow at the slowest pace since 2009. India must move toward fiscal discipline to lower inflation, curb the budget deficit and spur growth, Finance Minister Arun Jaitley said on June 1.
"The RBI extended a welcoming hand to the new Prime Minister," Frederic Neumann, an economist at HSBC in Hong Kong, wrote in a research report today. "That the RBI remained on hold so soon after the election wasn't really a surprise. But its dovish tone was."
Inflation Risks
India's benchmark stock index rose to a record after the RBI's rate decision and the yield on the 10-year government bond fell to 8.61 percent from 8.66 percent yesterday.
India's consumer price gains accelerated to a three-month high of 8.59 percent in April, the fastest pace among 18 Asian economies tracked by Bloomberg. Risks to the central forecast of 8 percent CPI by January 2015 "remain broadly balanced," the RBI said.
The possibility of higher prices from El Nino weather effects and geopolitical tensions that may impact fuel prices appear to be balanced by stronger government action on food supply, better fiscal consolidation and the pass through effect of previous rate increases, the RBI said.
Rajan also lowered the proportion of deposits banks must invest in government debt and similar approved securities to 22.5 percent from 23 percent. The cut reflects the need to balance lenders' funding needs -- as a stronger economy boosts loan growth -- with the government's financing requirements. Any more reductions in this rate will depend on the "likely path of fiscal consolidation," the RBI said.
Message to Modi
The cut in the statutory liquidity ratio reflects Rajan's efforts to spur the government to improve its finances and also his confidence that Modi's administration will take steps to boost private investment, according to state-run Bank of Baroda.
"If the government debottlenecks some of the key infrastructure projects, suddenly there will be a jump in credit demand," Rupa Rege Nitsure, chief economist at Bank of Baroda in Mumbai, said by phone. "The message Rajan is sending to the government is that I'll take into account the cost of disinflation, provided you consistently focus on fiscal consolidation."
Jaitley agreed with Rajan on the need to curb inflation when the two met last week. The finance minister said he'd make it a priority to curb the fiscal shortfall when he unveils the budget in July, in line with Rajan's wishes.
Growth Outlook
Morgan Stanley, Citigroup Inc. and Nomura Holdings Inc. raised their growth forecasts for India last month after Modi's win. Gross domestic product will expand at a four-year high of 6.5 percent in the year through March 2016, Morgan Stanley forecast, compared with a previous estimate of 6.2 percent.
"Easing of domestic supply bottlenecks and progress in the implementation of stalled projects should brighten the outlook for both manufacturing and services," the RBI said, adding that the prospect for exports should improve.
Economists surveyed by Bloomberg forecast average growth in the BRICS, which includes Brazil, Russia, India, China and South Africa, will be 5.3 percent this year, the slowest since 2009. It was 8.7 percent in 2010.
India's economy grew 4.7 percent in the fiscal year that ended March 31, compared with a decade-low of 4.5 percent in the previous 12 months. The fiscal deficit was 4.5 percent of GDP, narrower than the previous government's revised target of 4.6 percent.
Jaitley in February criticized his predecessor Palaniappan Chidambaram for fiscal laxity over the interim budget in effect for several months, saying the deficit was reduced by cutting capital expenditure instead of boosting revenues or reviving investment.
Deficit Plan
"Short term disciplining till we reverse the present trend will give us long term benefits," Jaitley wrote on his website on June 1. Modi's BJP pledged in its campaign manifesto to "break the vicious cycle of high inflation and high rates," in part through creating price stabilization funds and taking measures to prevent hoarding of food, which makes up 50 percent of the CPI basket.
"A credible deficit-cut plan by the government is critical to enable the RBI to ease rates," said Arun Singh, an economist at Dun & Bradstreet Information Services India Pvt. in Mumbai. "Right now, it's difficult as there are clear risks to inflation from a bad monsoon due to a possible El Nino threat."
Drought Chance
The monsoon, which provides most of the annual rainfall, will be below normal this year, with a 60 percent chance for the emergence of an El Nino that previously caused droughts, the country's weather forecaster said April 24.
Higher borrowing costs and subdued economic growth has hurt some companies including carmakers. Sales of Maruti Suzuki India Ltd. and others dropped 10.2 percent in April from a year earlier, compared with a 5.1 percent contraction in March, the Society of Indian Automobile Manufacturers said May 9.
"One critical factor that will pave the way for the RBI to cut rates will be a credible fiscal correction plan and the government policies that will set the economy for long-term growth," said Sonal Varma, an economist at Nomura Holdings Inc. in Mumbai. "The RBI can't lend a supporting hand as inflation remains uncomfortably high amid risks from a bad monsoon."
Before it's here, it's on the Bloomberg Terminal.
LEARN MORE