Qatar Shares Decline Most Globally as World Cup Concern Grows
Sarmad Khan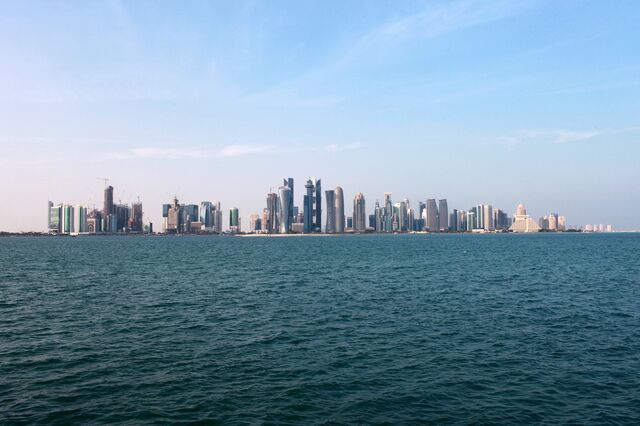 Qatar's stocks dropped the most in the world and bonds fell as concern deepened that the nation may lose the right to host the 2022 soccer World Cup, threatening as much as $200 billion of tournament-related investment.
The benchmark QE Index tumbled 2.4 percent, the most among more than 90 benchmarks tracked by Bloomberg globally, to close at 13,221.29. The yield on Qatar's 5.25 percent bond due January 2020 rose four basis points, the most since March, to 2.41 percent at 4:19 p.m. in Doha. A panel looking into the awarding of the tournament said yesterday it will issue a report in July into the possibility of corruption in the process.
"There might be re-voting and that's all very negative news," Hisham Khairy, the Dubai-based head of institutional trade at Mena Corp. Financial Services LLC, said by telephone. "Everyone is worried about it and everybody is reducing their positions."
Britain's Sunday Times reported two days ago that payments were made to soccer officials in return for support for Qatar's bid to stage the 2022 tournament. The country's World Cup Bid Committee denied the allegations and said it won on merit.
Qatar, holder of the world's third-largest natural-gas reserves, plans to spend as much as $200 billion on projects including stadiums, roads and hotels as it prepares to host the event. Bond sales in the country are off to the worst start in three years as companies from telecom provider Ooredoo QSC to developer Ezdan Holding Group take loans as banks flush with cash cut lending rates.
MSCI Upgrade
Stocks on Qatar's main index have gained 42 percent in the past 12 months on speculation the country's promotion to emerging-market status at MSCI Inc. would prompt inflows from investors tracking the index provider's gauges. The upgrade, effective this week, may attract $649 million to the nation's bourse, HSBC Holdings Plc said in a report May 12.
"It's mostly profit taking in some of the names which have appreciated because of the MSCI upgrade," Bobby Sarkar, head of research at Qatar National Bank Financial Services, said by phone from Doha. "There has been market noise about the World Cup for a couple of days, which has exaggerated some of that sell off."
The gauge reached a record high on June 1, when its 12-month forward earnings multiple climbed to 14.71, the highest level since June 2008. The measure traded at 14.2 times today, according to data compiled by Bloomberg.
Qatar Islamic Bank retreated 7.6 percent, the most since February 2010, to 97 riyals. Masraf Al Rayan, the Shariah-compliant lender with the biggest weighting on Qatar's gauge, fell 3.4 percent to 59.40 riyals, the lowest close since May 26. Vodafone Qatar slid 3.7 percent to 20.89 riyals. Masraf Al Rayan, Qatar Islamic Bank and Vodafone Qatar are among 10 companies promoted in the MSCI upgrade.
Qatar raised the foreign ownership limit for shares listed in Doha to 49 percent through a royal decree last week. The move may lead to additional inflows of $440 million and an increase in the country's weighting on MSCI's developing-market measure, Deutsche Bank AG said in a May 28 note.
(An earlier version of this story corrected a share-price move and bond direction.)
Before it's here, it's on the Bloomberg Terminal.
LEARN MORE