Japan Moves Closer to GPIF Asset Overhaul After Review
Anna Kitanaka and Shigeki Nozawa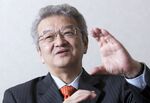 Japan's health ministry announced the results of its financial review of public pensions, taking the country's biggest retirement fund a step closer to an expected revamp of its bond-heavy investment strategy.
The review, which takes place every five years, gives the 128.6 trillion yen ($1.26 trillion) Government Pension Investment Fund updated data on estimated payouts for retirees. The analysis had to be completed before GPIF could move on to changing its asset allocations, according to Takatoshi Ito, who headed a government advisory panel that last year urged the fund to diversify its investments and boost returns.
"The market is focused on the pension financial review because GPIF can't release its new portfolio until it's over," said Takashi Miyazaki, general manager of strategic research at Mitsubishi UFJ Asset Management Co., a unit of Japan's biggest bank. "The market is likely to move on speculation the ratio for Japanese stocks may be higher than estimated."
Investors expect GPIF will reduce holdings of domestic bonds, which account for more than half its portfolio, and replace them with Japanese stocks and foreign investments. The shift is tipped by Nomura Holdings Inc. to weaken the nation's currency by about 10 yen against the dollar over the next 12-18 months, while Daiwa Securities Group Inc. says it will put a floor under slumping Japanese equities.
Ministry Projections
The health ministry's review looked at projections for Japan's population size, demographics and economic growth to forecast the payouts that GPIF needs to cover and the differences between money contributed into the fund and the cash given to retirees.
It outlined dozens of scenarios, including those supplied by a health ministry committee that recommended in March that GPIF should seek returns of 1.7 percent plus the rate of growth in wages. The review contained that target without officially endorsing it.
In the ministry's preferred economic scenario, pension payouts will probably exceed contributions by 5.7 trillion yen in the year ending March 2015. Taking expected investment returns into account, the projected deficit is 3.6 trillion yen. The fund is expected to run surpluses from fiscal 2018 until around fiscal 2070 when investment gains are factored in.
Pension Payments
GPIF's investment return target will be impossible to achieve should it maintain its focus on local bonds, Yasuhiro Yonezawa, appointed in April as head of the fund's investment committee, was cited as saying in an interview with Nikkei Veritas on June 1. It's possible the fund may pare Japanese government bonds to between 30 percent and 50 percent of assets, Yonezawa said.
GPIF may reveal its new portfolio targets in August, Yonezawa told the Nikkei newspaper today. An allocation of 20 percent to domestic stocks wouldn't be too high, he said. GPIF held 55 percent of its portfolio in local debt and 17 percent in Japanese equities at the end of 2013.
GPIF is under pressure to buy assets that offer higher returns as Prime Minister Shinzo Abe and the Bank of Japan spur inflation that risks eroding the value of local bonds. Lawmakers have said reforms to the fund will be included in Abe's latest growth strategy due this month.
GPIF invests for Japan's two main state retirement systems, including the national plan for employees funded by payroll deductions and employer contributions. Workers who've paid into the fund at least 25 years receive a portion of their salary as retirement pay from when they turn 65 years old, with the percentage based on factors including the outlook for Japan's population growth and economy.
Retirement Income
Under the set of assumptions used in making GPIF's investment-target recommendation, a person earning 335,000 yen a month who retires this year and is eligible for a pension would get monthly payouts of about 64 percent of his salary, according to today's review.
Should the projected amount paid out to pensioners fall to less than 50 percent of their wages, the health ministry is required by law to take steps to improve the payout ratio. The outlook for this stood at 50.1 percent in the 2009 review, according to its median assumption. That compares with 50.6 percent in this year's report, based on the ministry's preferred economic scenario.
GPIF held 55 percent of its assets in local bonds as of Dec. 31, 17 percent in domestic equities, 15 percent in foreign stocks and 11 percent in overseas debt.
The fund will cut its target for Japanese bonds by a third to 40 percent, and increase its target for the country's shares to 20 percent from 12 percent, according to the median estimate of 10 fund managers, strategists and economists surveyed by Bloomberg News last month.
Before it's here, it's on the Bloomberg Terminal.
LEARN MORE