In New Disney Starbucks, 'Magic' Chalkboards Mimic Customers
by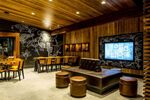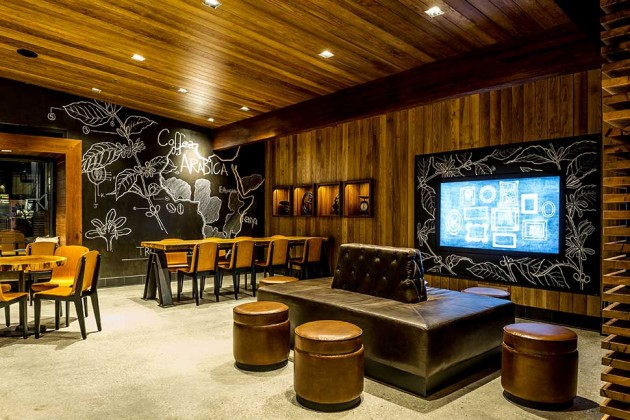 Starbucks has just opened a 3,900-square-foot café in Downtown Disney in Orlando. It's not like the licensed outposts inside the theme parks, which are designed to blend in with the Main Street aesthetic in Magic Kingdom and the space-age look in Epcot. The new café—operated by the company rather than a licensee and located in the entertainment district outside the park—essentially looks like an upscale Starbucks, except for a special feature.
The centerpiece is a 70-inch touchscreen that automatically renders whatever's in front of it into a live chalkboard illustration (like your shadow). When users touch the screen, the video pauses and they can draw on the rendering with their fingers. A Starbucks that recently opened at Downtown Disney in Anaheim is the only other location with this feature; store managers can let the two screens communicate, so customers in the Anaheim café can view, in chalkboard style, what's going on in Orlando, and vice-versa.
The high-tech feature presents some easy opportunities for, well, let's call it misplaced creativity, but Starbucks trusts customers to exercise good judgement. At the Anaheim store, customers have been drawing mouse ears on their chalkboard images, taking selfies, and playing tic-tac-toe, according to Starbucks spokeswoman Haley Drage. Response has been similar in Orlando. As for mischief, "It's not the spirit of why we're doing it," she says. "It's not even coming up."
Here's one user's experience with the device:
Disney and Starbucks have been discussing how to team up for eight years, and they announced the opening of Starbucks cafés at U.S. Disney locations in 2012. Additional Starbucks will be opening in Downtown Disney in both Anaheim and Orlando, Animal Kingdom, and Disney Hollywood Studios. (It's not clear whether those will all have digital chalkboards, too.)
Some additional features of the new cafés, according to Bill Sleeth, Starbucks's vice president of design for the Americas: They are LEED certified, the interiors use reclaimed woods, and the lemongrass growing on their roofs is fertilized with used coffee grounds.

Before it's here, it's on the Bloomberg Terminal.
LEARN MORE